CultureMonkey is making data-driven employee engagement a reality
With our AI-assisted platform that marries data metrics with employee psychology, we, at CultureMonkey are crafting a powerful business case for organizations to invest in employee engagement.
Businesses are built on strong foundations of the quantifiable and tangible. Quantifiable business metrics drive tangible goals of an organization - revenue, profitability, and shareholder value. As Peter Drucker says, "you can't manage what you can't measure". So it is with employee engagement. Leveraging the advancements made in the field of Artificial Intelligence (AI) and Analytics, CultureMonkey is giving employee engagement a massive facelift.
Scaling new heights
At CultureMonkey, we have been enabling our diverse global clientele to drive end-to-end employee engagement with our unique automated, AI-assisted platform. Observing the growing demand for a responsive platform to measure engagement, run surveys, and access better analytics, we decided to tie our strong product expertise with robust business acumen and in a strategic move, welcomed Tushar Kalia as a Co-founder of CultureMonkey.
Tushar brings with him a decade of experience in SaaS having helped companies like Betterworks and Goodera scale across geographies. At CultureMonkey, Tushar and his team of SaaS business veterans are scaling our platform across multiple geographies to deliver tangible engagement ROI to organizations at an accelerated pace.
"I'm more than excited to be joining this team that has, in a short time, demonstrated incredible potential with their product. Most organizations are talking about bridging the gap between employee psychology and business impact at the workplace and CultureMonkey is making that happen with a scalable solution that is enabling organizations to build a winning culture. With its deep tech expertise and experience in SaaS, I see CultureMonkey is poised for the Future of Work. In fact, changing times have demonstrated the need for tech to resolve cultural challenges faced by organizations. In the long run, we aim to empower business teams with richer data on their employee sentiments for nurturing a highly engaged and productive workforce."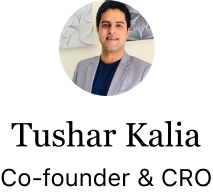 The criticality of employee engagement tools for the future of work has been amplified by the COVID-19 pandemic. Currently, there is an increasing demand for agility and flexibility in capturing employee feedback, coupled with the need to personalize engagement to individual employees. We predicted this demand well in advance and are already in talks with a new list of clientele seeking improved flexibility and personalization in engagement. In fact, CultureMonkey continues to actively stay on top of these changing dynamics in the space of employee engagement, innovating at speed to bridge gaps in the modern HR stack and deliver a platform that will fully automate employee engagement and enable HRs to deliver stellar business value.
Playing to our strengths
We made CultureMonkey out of a deep passion for creating human workplaces and inspired by our product expertise.
The core team's strong tech expertise - led by CEO, Senthil Kumar Muthamizhan and CTO, Joseph Christopher who collectively bring more than 20 years of experience in engineering - is our greatest strength. This has allowed us to be extremely agile, ship product functionalities at speed, and deliver customer requests faster.
"The platform, from the first line of code that we wrote, has focused on two aspects - scalable reporting and plug-ability. We have been extremely biased towards offering the most real-time reporting and analytics. Backed by the engineering team's expertise in API systems and microservices, our secondary focus has been on building deeper connections with HRMS platforms for seamless team management and leveraging channels like WhatsApp, SMS, Chatbot, Slack, and other business communication platforms to listen to people. Innovation at speed will always be at the heart of CultureMonkey's operations."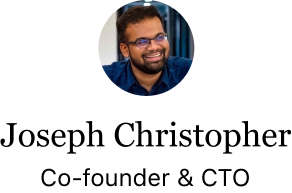 Pioneering Employee Engagement 4.0
At CultureMonkey, we have made it our mission to ensure employee engagement gets a much-deserved space in boardroom conversations.
In fact, we are excited to be heralding the next era of employee engagement, Employee Engagement 4.0 by adding a unique layer of our home-built 'Freud AI' to the platform to deliver unparalleled insights into employee psychology.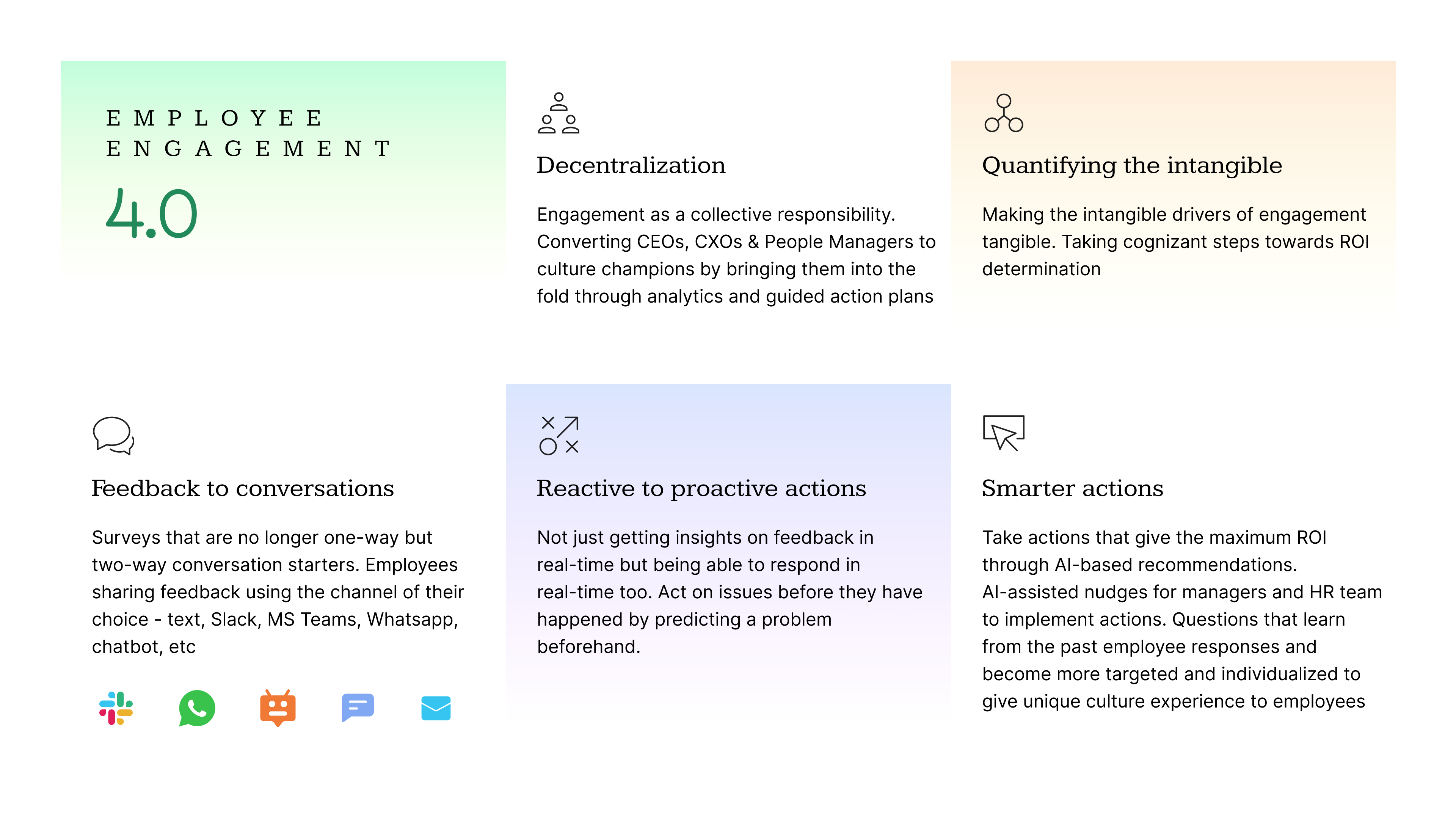 And what does this mean for businesses?
Managers and business teams along with HR professionals will now have access to data-driven measures to build, nurture and grow their workplace cultures with exceptional visibility into employee psychology, the ability to hyper-personalize engagement to match individual needs, engage multiple stakeholders to ensure last-mile delivery of engagement solutions, and take proactive measures to douse employee, cultural or organizational issues even before they occur.
"CultureMonkey is bringing Employee Engagement 4.0 to the world. The predictability, the measurability, the transparency, and the control that was earlier missing in engagement, we are bringing that to organizations. We want to shine a spotlight on employee engagement, show organizations how it can impact the bottom line with credible and accurate data. Data that will drive HR decisions. Data that will enable managers to have engaged teams. Data that will enable teams to reduce attrition. Ultimately, our vision, our dream is one: to enable people throughout the world to say that they are happy at work."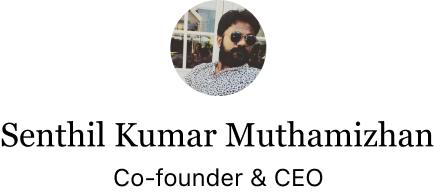 ---