CultureMonkey and Slack integration: Automate your survey reminders with ease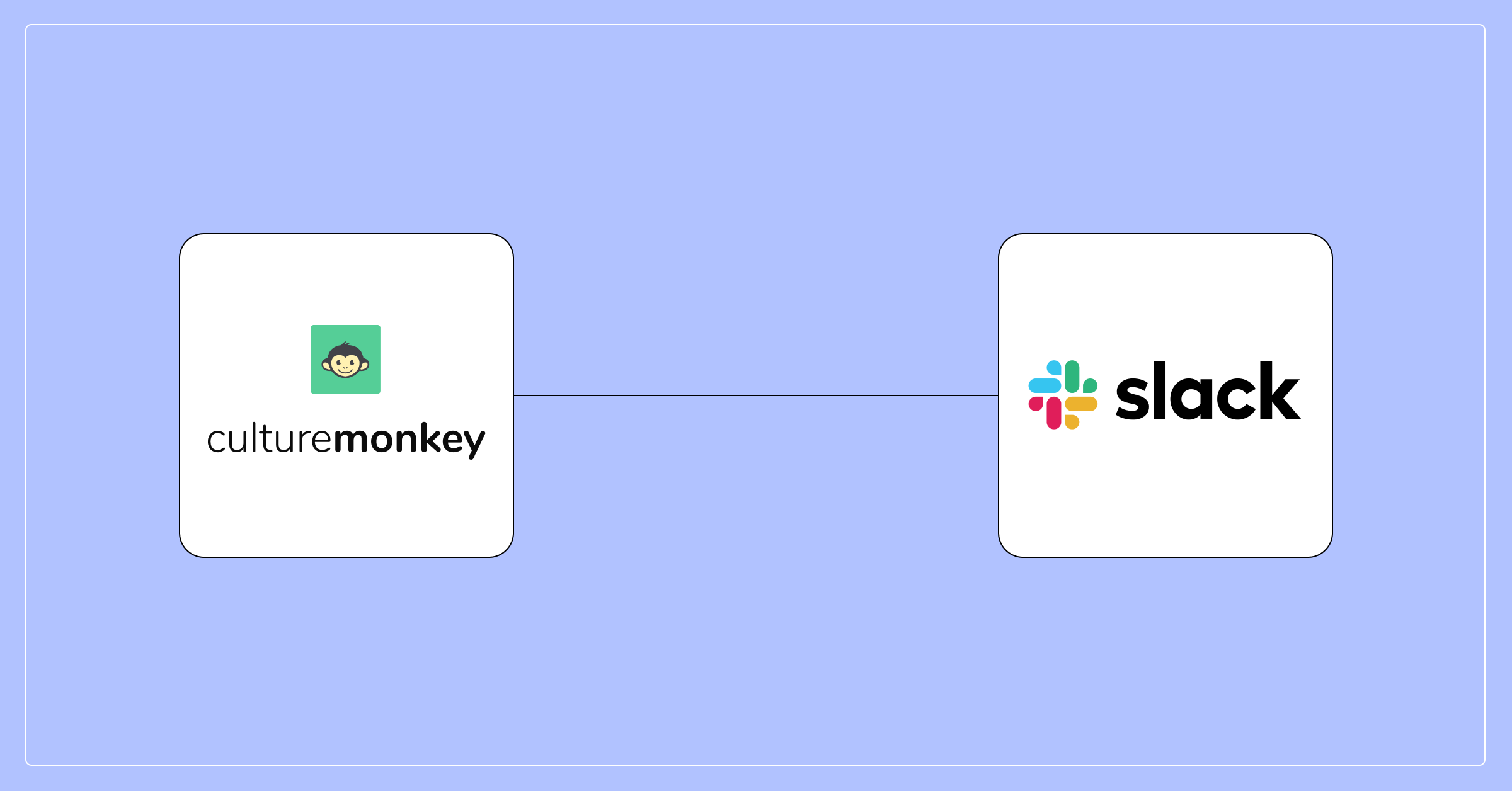 As technology advances, companies ask employees to adapt to new systems and tools. However, employee disengagement remains a significant issue for organizations worldwide despite these changes.
Employee engagement surveys have become essential for people leaders and HRs to gauge employee satisfaction and engagement but ensuring high participation rates can be challenging.
Fortunately, CultureMonkey and Slack integration provides a solution. With this integration, you can connect CultureMonkey with your existing Slack account to send reminders to employees who have yet to complete surveys, including pulse surveys, mental health surveys, manager effectiveness surveys, employee lifecycle surveys, and more.
This integration makes it easy to reach out to employees and remind them to complete surveys, increasing participation rates and providing real-time feedback on employee sentiments.
Don't let disengaged employees hinder your organization's growth and success. Take advantage of CultureMonkey's seamless integration with Slack to streamline your survey process and improve your workplace culture.
How do CultureMonkey and Slack integration work?
It is not uncommon, we know that regular surveys are among the most effective ways to boost employee engagement. However, reminders for these surveys can often be overlooked by busy employees. This is where the integration of CultureMonkey with Slack comes in handy.
Here are some enhanced steps to help you integrate CultureMonkey with Slack:
Step 1: Log in to your CultureMonkey account and go to the Channels module from the left panel.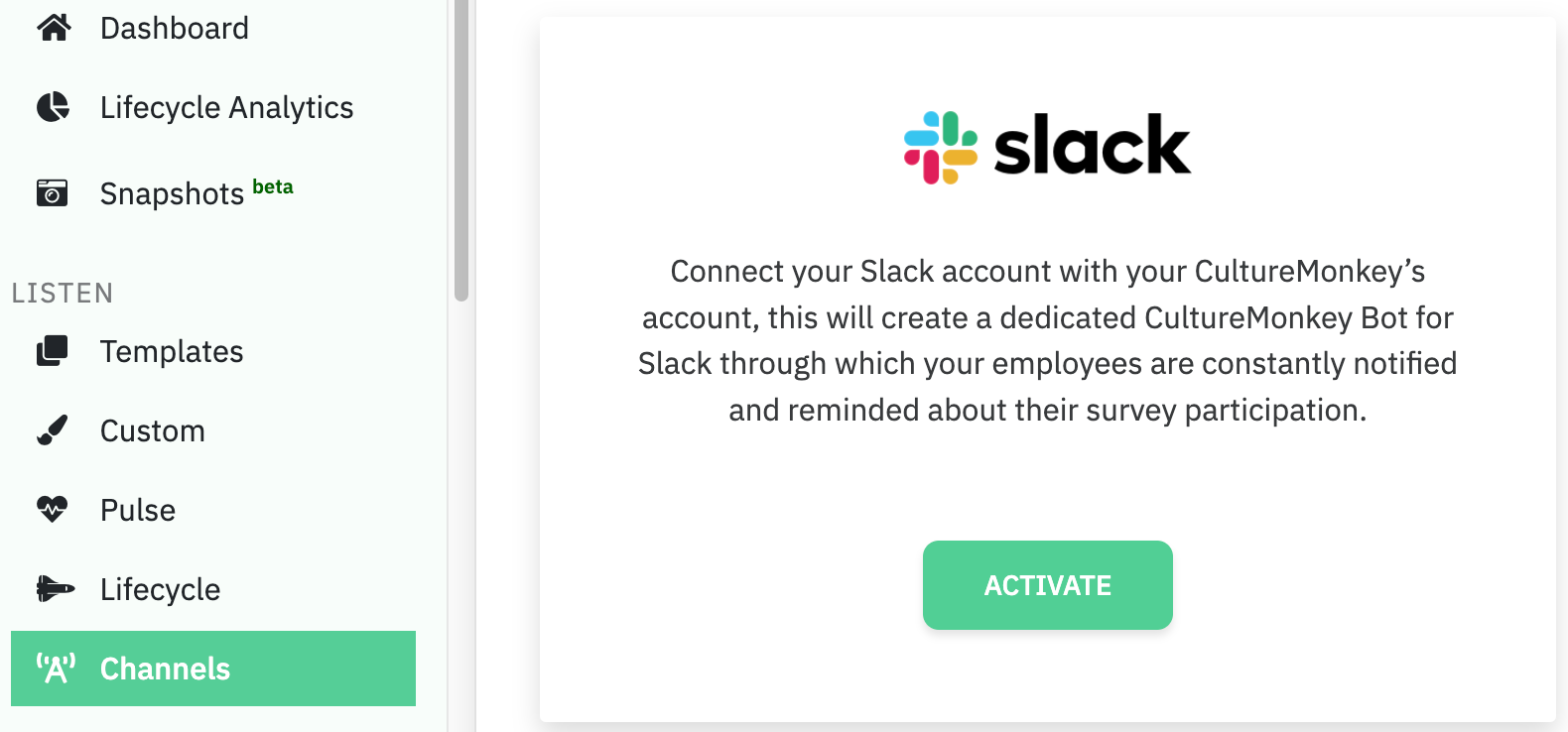 Step 2: Within the Channels module, click on "Activate" within the Slack section.
Step 3: You will now be redirected to the Slack authentication page, which outlines the permissions required by CultureMonkey to send messages to your employees. These permissions include the ability to send direct messages to users and post messages to channels.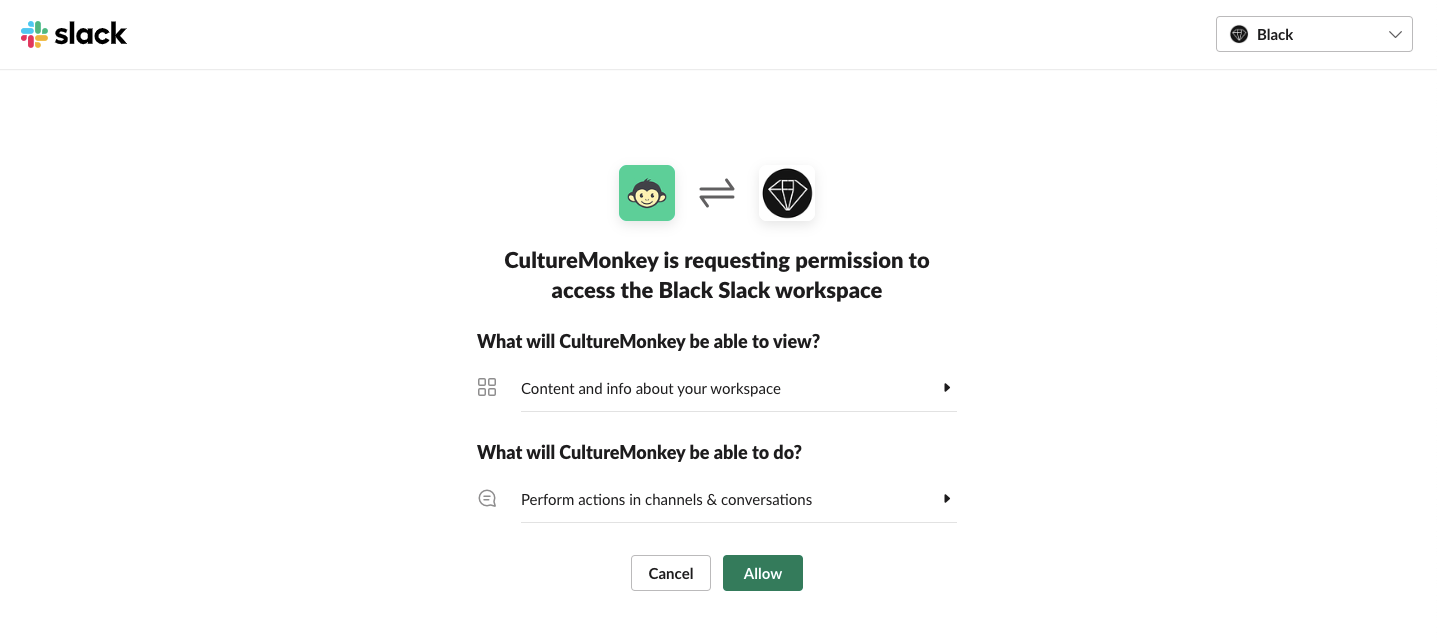 Step 4: Click "Allow" to grant CultureMonkey the necessary permissions to integrate with Slack.
Please note that when you click the "Activate" button, the Slack authentication request will only be sent to the Slack administrator. If you are not the administrator of your organization's Slack workspace, you should ask the administrator to perform Steps 3 and 4.
Once the integration is complete, CultureMonkey can now send reminders to employees through Slack, making it easier for them to complete the surveys. This not only increases participation rates but also helps to ensure that employee feedback is received in a timely manner.

With CultureMonkey's integration with Slack, you can streamline your survey process and ensure your employees are engaged and satisfied. So, don't hesitate to integrate CultureMonkey with Slack today!
If you are unsure how to configure the channel or would like to test the feature before launching a survey, you can easily reach out to CultureMonkey's support team at support@culturemonkey.io with the user's email address to trigger a test message in Slack.
It's important to note that the CultureMonkey app should not be removed from the list of Slack applications used by the organization. In the event of accidental deletion, the configuration will need to be redone, so it's recommended to reach out to CultureMonkey's support team at support@culturemonkey.io for re-configuration assistance.
By integrating CultureMonkey with Slack, organizations can effectively streamline the survey process and receive more valuable feedback from employees. This can ultimately help drive positive changes in company culture and boost employee engagement.
Why you should look out for CultureMonkey and Slack integration?
Integrating CultureMonkey and Slack is a powerful tool for companies to engage their employees in surveys and gain insights into their satisfaction, mental health, and more. Here are some additional points to consider:
Increased engagement: With the integration of CultureMonkey and Slack, companies can reach employees directly through their preferred communication channels. This can result in higher participation rates and more accurate data for analysis.
Real-time notifications: The real-time notification feature allows employees to receive survey requests and complete them at their convenience without having to navigate away from their daily work in Slack.
Customization options: Companies can customize the survey templates, feedback channels, and timing to align with their specific goals and requirements. This allows for a more personalized employee experience and more targeted insights for management.
Data privacy: CultureMonkey takes data privacy seriously and ensures that all employee data is secure and confidential. The Slack integration complies with GDPR, CCPA, and other privacy regulations.
Streamlined workflow: By using Slack as the delivery mechanism for surveys, companies can simplify their survey administration process and eliminate the need for additional software or systems.
Improved response rates: The integration with Slack allows multiple reminder messages to be sent to employees who have not completed their surveys. This can improve response rates and ensure that data is representative of the entire employee population.
Increased Transparency: Slack enables organizations to foster a culture of transparency by providing a platform for open communication and sharing of information. This helps employees feel more engaged and valued, leading to increased motivation and productivity.
Ease of use: The integration of CultureMonkey and Slack is easy to set up and manage, requiring only a few steps to activate. Additionally, the support team is available to assist with any questions or issues that may arise.
CultureMonkey and Slack make it simple for you.
At first glance, listening to employees might seem like a simple task, but identifying warning signs and disengagement can be quite challenging. Prioritizing employee well-being and regularly monitoring feedback is critical to maintaining a healthy organizational culture.
Conducting surveys with high participation rates is essential to obtain accurate, real-time employee feedback. However, sending reminders to complete surveys can be time-consuming and requires attention to detail.
That's why we've integrated CultureMonkey with Slack to simplify your work by automating all of your notification needs. With this integration, you can say goodbye to manual systems and welcome real-time insights into employee feedback.
You'll be able to track and monitor employee feedback in real time and respond to concerns quickly, helping your business grow and improving employee engagement and satisfaction.
If your organization already uses Slack and you want to improve your workplace culture, there's no better time to explore the benefits of using CultureMonkey. Contact us today to learn more about how we can help you take your organization's culture to the next level!
---