CultureMonkey and Darwinbox integration: For people leaders to enable exceptional employee engagement in minutes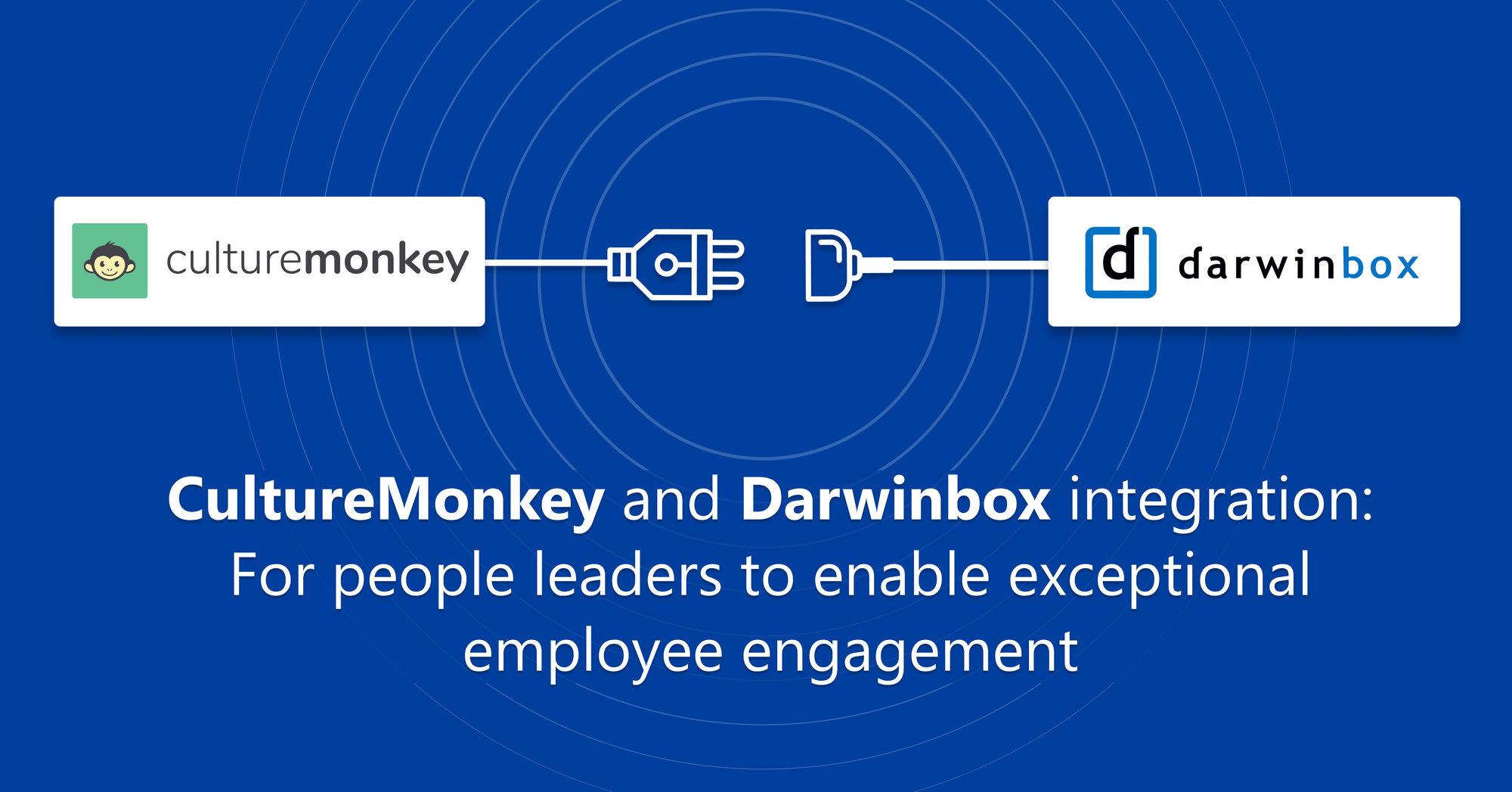 The headlines portray a comforting picture of technology's impact on modern workers. We all know how backbreaking a disengaged workforce can be for any business. Keeping employees satisfied and engaged is a priority as well as a challenging task for people and HR leaders alike.
But, what if we say we have a user-friendly and easy-to-integrate solution for you that can solve these adversities and can increase employee engagement and productivity?
Enter CultureMonkey-Darwinbox integration.

If you are an HR leader struggling to manage your workforce (regardless of the size), you've landed at the right spot.
In this article, we'll discuss how integrating your HRMS with an employee engagement tool will be a quick fix for all your challenges. One such blazing duo is the Darwinbox and CultureMonkey integration!

CultureMonkey is an exclusive partner with Darwinbox HRMS, which helps us to seamlessly integrate with their HRMS platform and make data transfer happen in minutes, within our engagement platform, without any hassle.
With that said, CultureMonkey's employee engagement platform lets you integrate with Darwinbox HRMS with just a click of authorization and the data transfer happens in mere minutes.
Once the data transfer is automated, setting up lifecycle surveys , getting realtime reviews and feedback and moving the actionable insights to managers would become seamless.
How can HR leaders make headway with CultureMonkey and Darwinbox integration?
Integrating Darwinbox with CultureMonkey will enable HR leaders and managers to immerse themselves into deep hidden employee insights. With Darwinbox and CultureMonkey integration, you will have an employee engagement tool connected to your HRMS which will help you analyze and predict your employee behavior, performance, and engagement without the hassle of uploading employee data manually.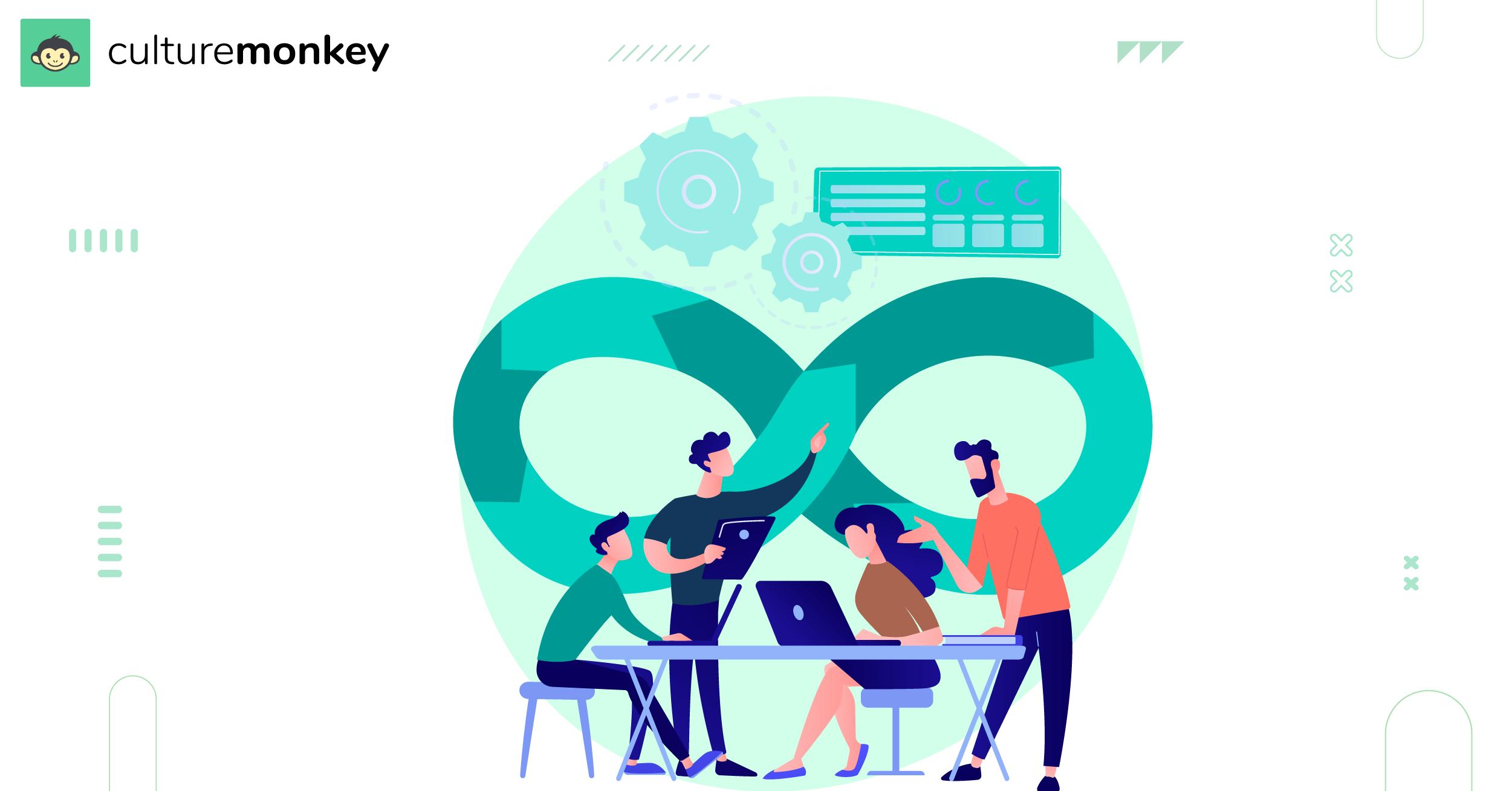 CultureMonkey's AI-powered employee engagement software will give you real-time actionable insights about employee productivity, challenges, motivation, and sentiment adding a new dimension to strategic workforce planning. And, icing on the cake: it will help you reduce unwanted employee attrition.
1. Say goodbye to manual data transfer:
Organizations following traditional approaches have slow and cumbersome data transfer processes. HR leaders spend most of the time adding and updating employee data manually to the platform that regulates employee engagement.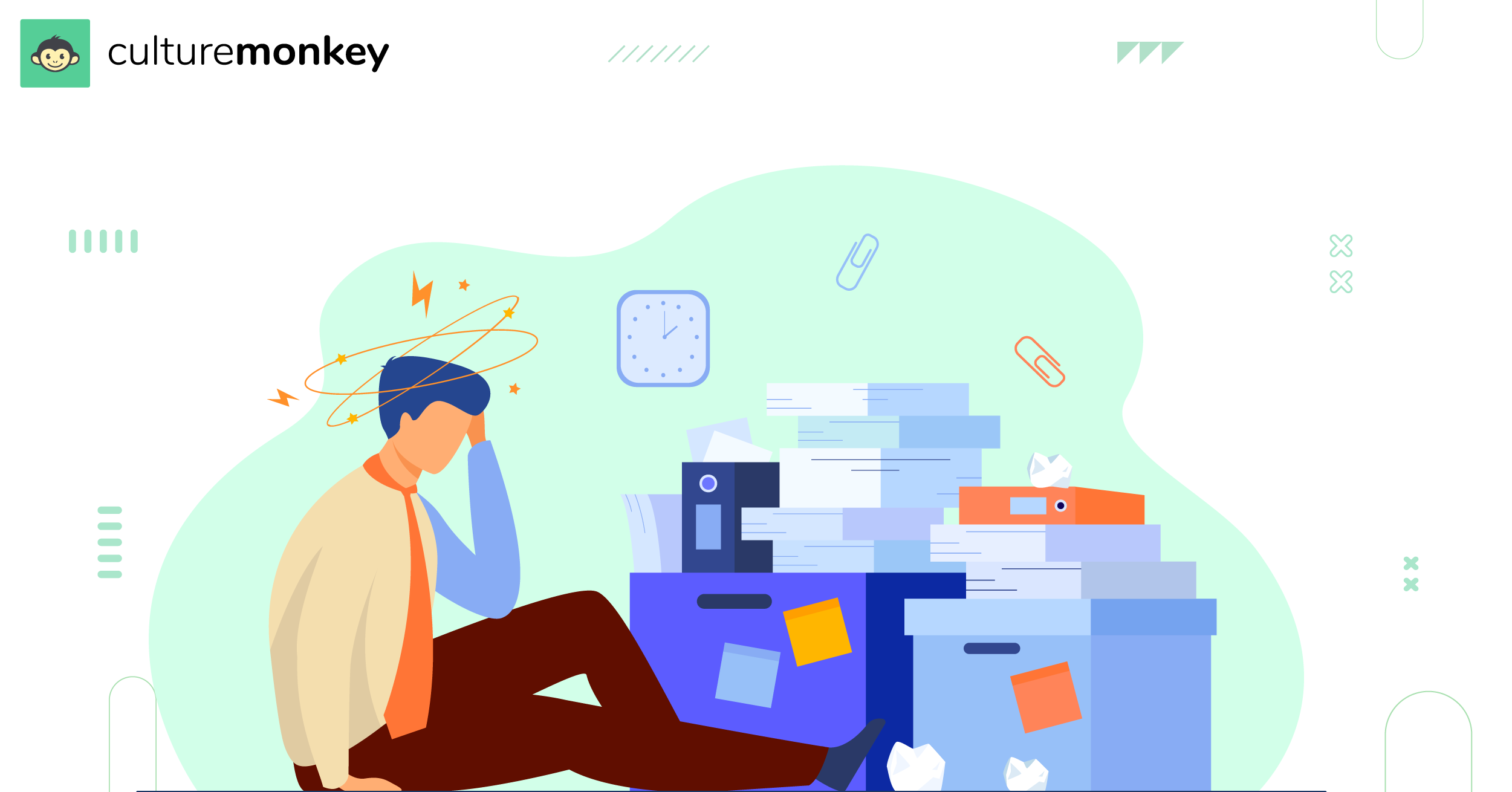 This can be extremely strenuous and time-consuming for HR leaders. The time they could use on building better cultures is spent on impractical data exports.
With this integration, a business using Darwinbox can have an impeccable sync that can transfer the employee data in under 30 minutes (for a company size of 4k employees). An HR leader, who is a Darwinbox HRMS user, simply needs to click the connect button on the CultureMonkey module, after which an automatic process is initiated that syncs the employee data into CultureMonkey.
2. No chaos of incorrect fields sync while transferring data:
Hero feature:
In the past few integrations, users had the option to utilize the predefined fields which could be used to map employee data with CultureMonkey. But, how often are employee fields created and managed in the same format across companies? Not so often right?
HR leaders fear erratic functionality and choose to spend those extra hours to get away with the trouble of rechecking and refining data. Keeping this in mind, for Darwinbox, CultureMonkey created an option for field mapping.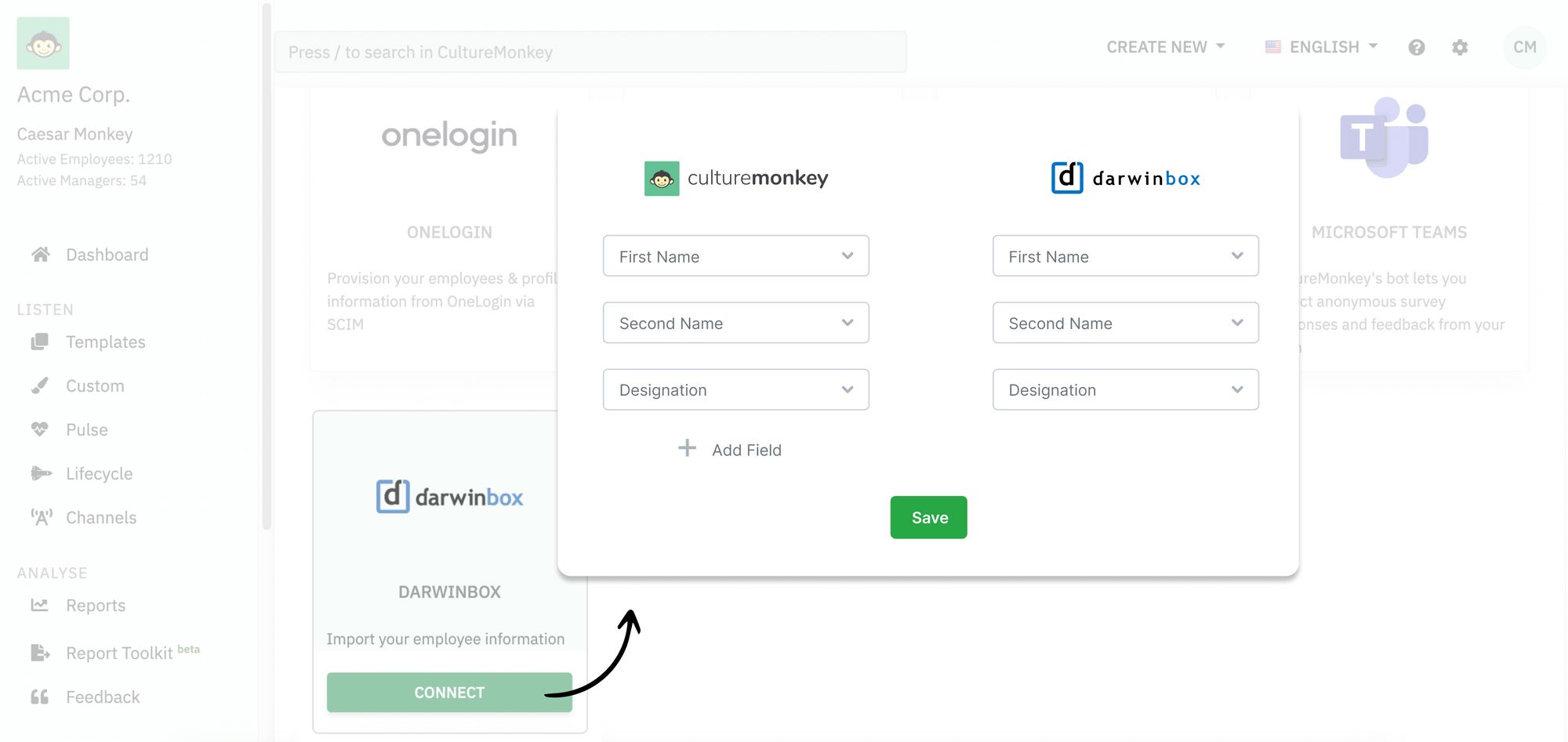 With the field mapping feature, one can map the fields from their system in any order and name into our system.
To transfer data with utmost precision and to take the difference of fields into consideration, we created two options for Darwinbox users: Standard attributes and custom attributes.
To simplify the process, CultureMonkey has created a set of standard attributes that are extremely basic in nature for users to choose from like name, location, geography etc.
On the other hand, we have provided an option to add custom attributes within our tool, where the users can create their own attributes on the basis of their requirements like scores, employee ID, etc.
Let's take an example of ACME inc. who wants to send segmented surveys to their Gen-Z, millennials and Baby boomer workforce separately. So, with the help of CultureMonkey's custom attributes feature, one can synchronize their customized fields like generation tracking in their HRMS and sync that with CultureMonkey's employee survey tool.
With this sync, you can send the desired segmented surveys and get customized analytics and tracking for that.
And the best part is - there is no limit to the number of attributes a user can create. With the option of field mapping, HR leaders do not have to worry about not having their required fields synced from Darwinbox to the CultureMonkey, as this integration makes sure that all the fields are synced no matter how they are mapped.
3. Count on CultureMonkey for error detection and handling:
It's natural to miss a few details while manually uploading data. But, this can cause a lot of problems when sending surveys and reviewing anonymous feedback especially incase of employee lifecycle surveys. If the manual data is incorrect, the survey could be sent to the wrong employee at the wrong time causing chaos in survey analytics.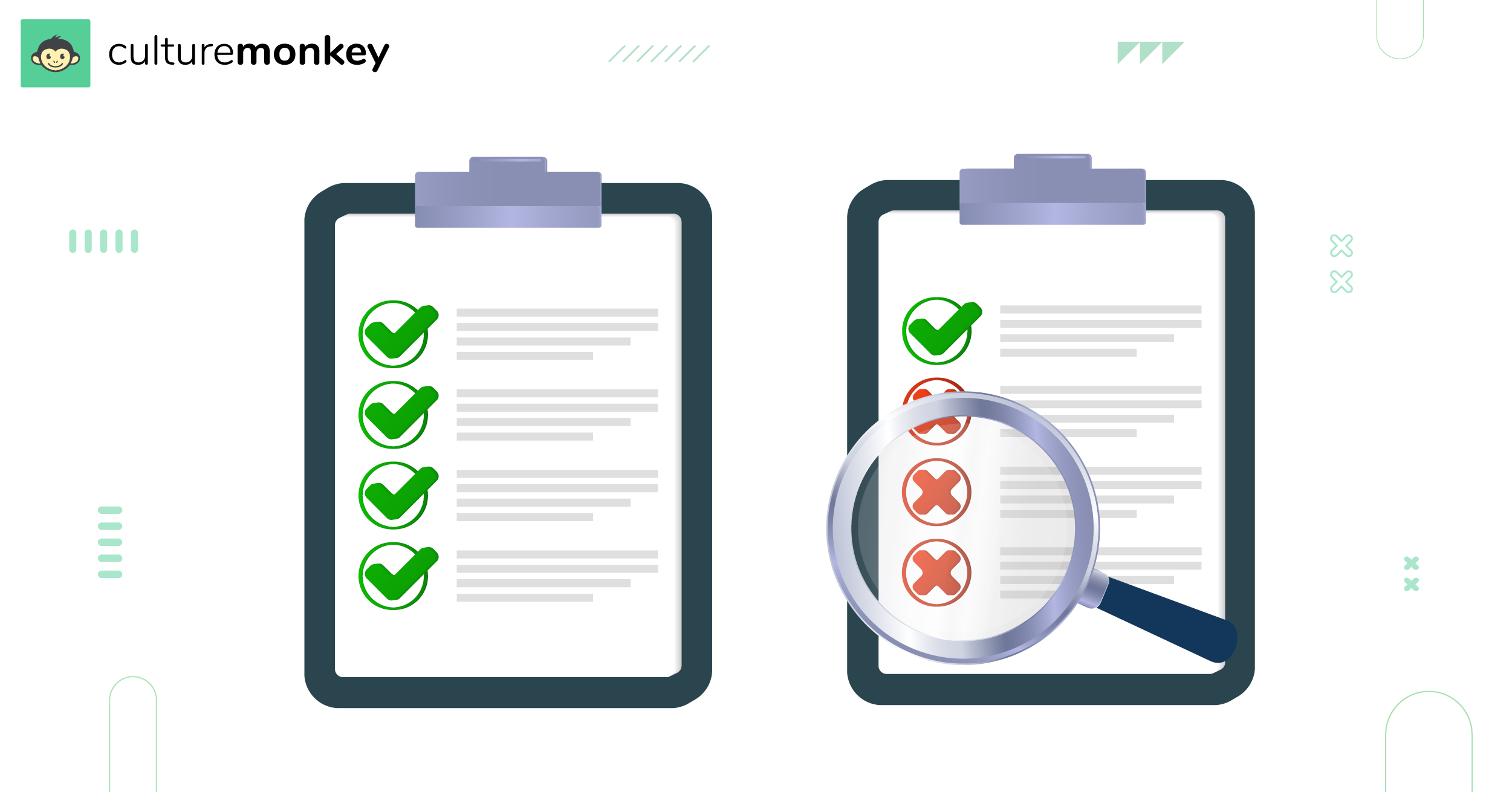 To avoid such mix-ups, CultureMonkey's feature sync validator automatically verifies and rectifies false or duplicate data. The sync takes place between Darwinbox and CultureMonkey fortnightly to ensure maximum efficacy of data sync in conducting the surveys.
The automated sync validator will review records of entire data for mismatches and will perform a re-sync. The identified mismatched data is compiled and a report is sent to the stakeholders and tech team which helps HR leaders view their employee database and have accurate actionable insights into the employee sentiments.
The unending possibilities of automation: Why CultureMonkey and Darwinbox integration is important for your organization?  

1. Real-time feedback and deep actionable insights through detailed reports:
Employee feedback is a must-have to keep your employees engaged. But, the feedback is worthless if timely actions are not taken on them. And, you'll end up losing your top-performing talent eventually.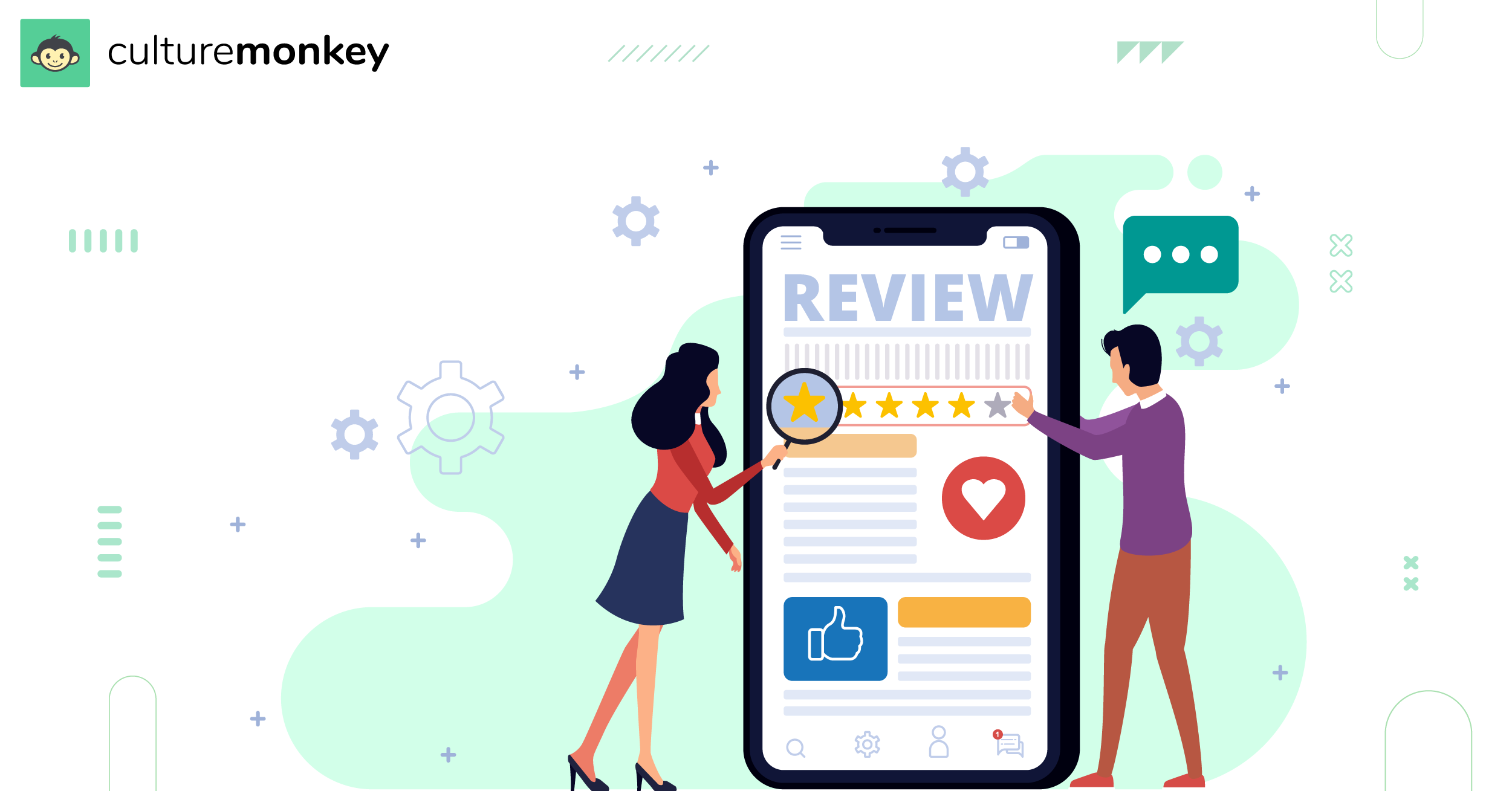 With Darwinbox and CultureMonkey integration, every single detail of the employee is pulled into the CultureMonkey database. For instance, details like their date of joining, their managers, the departments they are working for, or the geography in which they are currently posted.
Such minute details helps CultureMonkey send timely pulse surveys to employees and advanced reports are drafted for each manager to comprehend the feedback and look into their employee sentiments. Once they have clarity into the root cause of the problems that lead to attrition or disengagement, managers are able to take swift actions to draft policies and values around employee needs.

2. Improved data accuracy and workplace transparency:
With inaccurate data, HR leaders struggle to build trust in an organization. The Darwinbox and CultureMonkey integration creates an edge to build and maintain workplace transparency and help leaders store and manage data with 99% accuracy.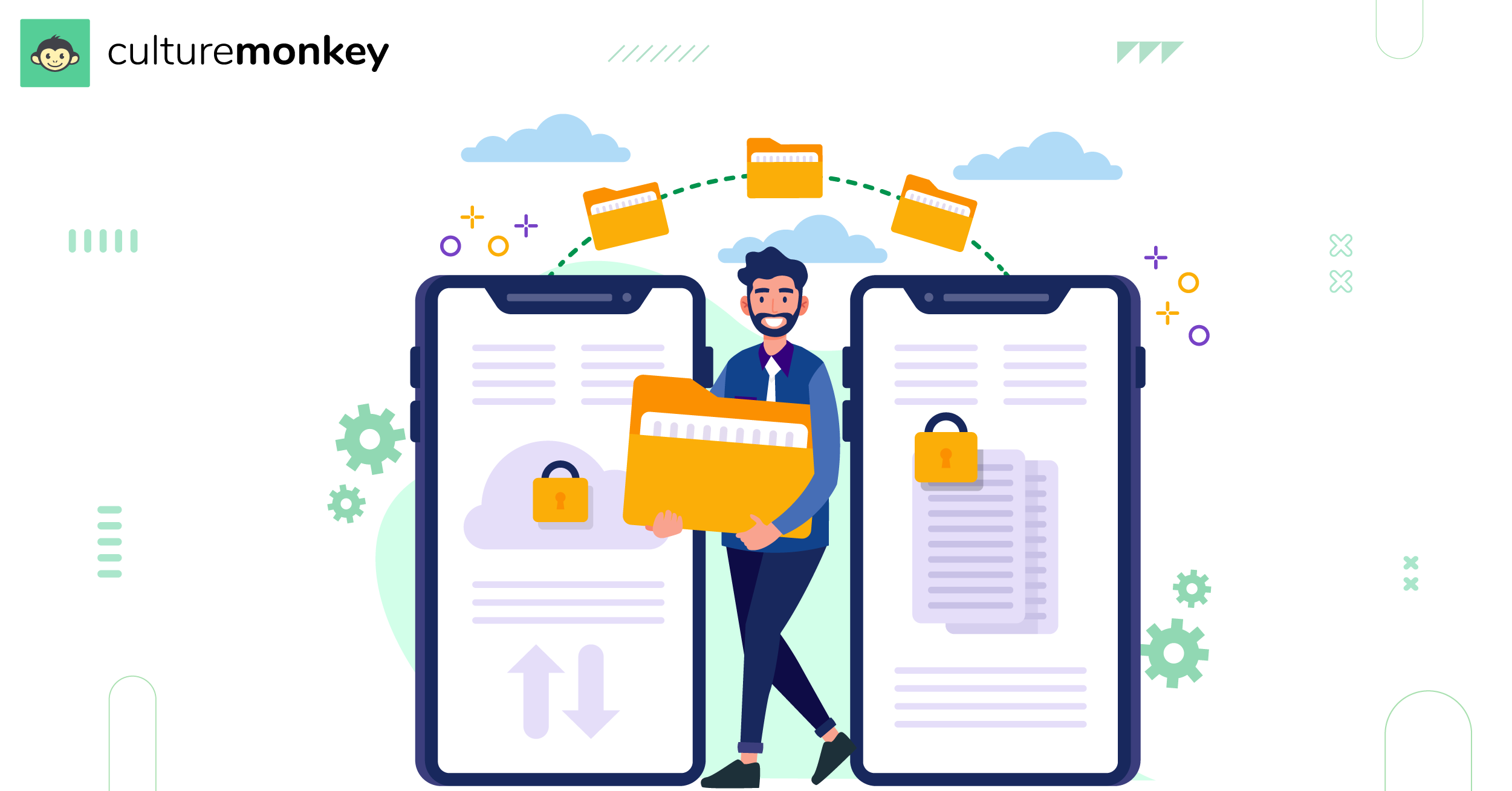 We are conscious of the fact that employee data is very personal for each organization as it holds very private information about the employee. To reduce errors in maintaining this data, HR leaders must take the help of technology and plugin CultureMonkey with Darwinbox to improve the overall efficiency of your organization. This will give you an upper hand in keeping your employees happy and making them feel valued.

3. Intensifies team agility and employee engagement:
HR leaders need the support of data before they jump into any decision-making. Whether it is fixing problems for old employees or creating opportunities for new hires while scaling up. With real-time reviews and lifecycle surveys, an organization can ensure that its employees are engaged at all points in their careers.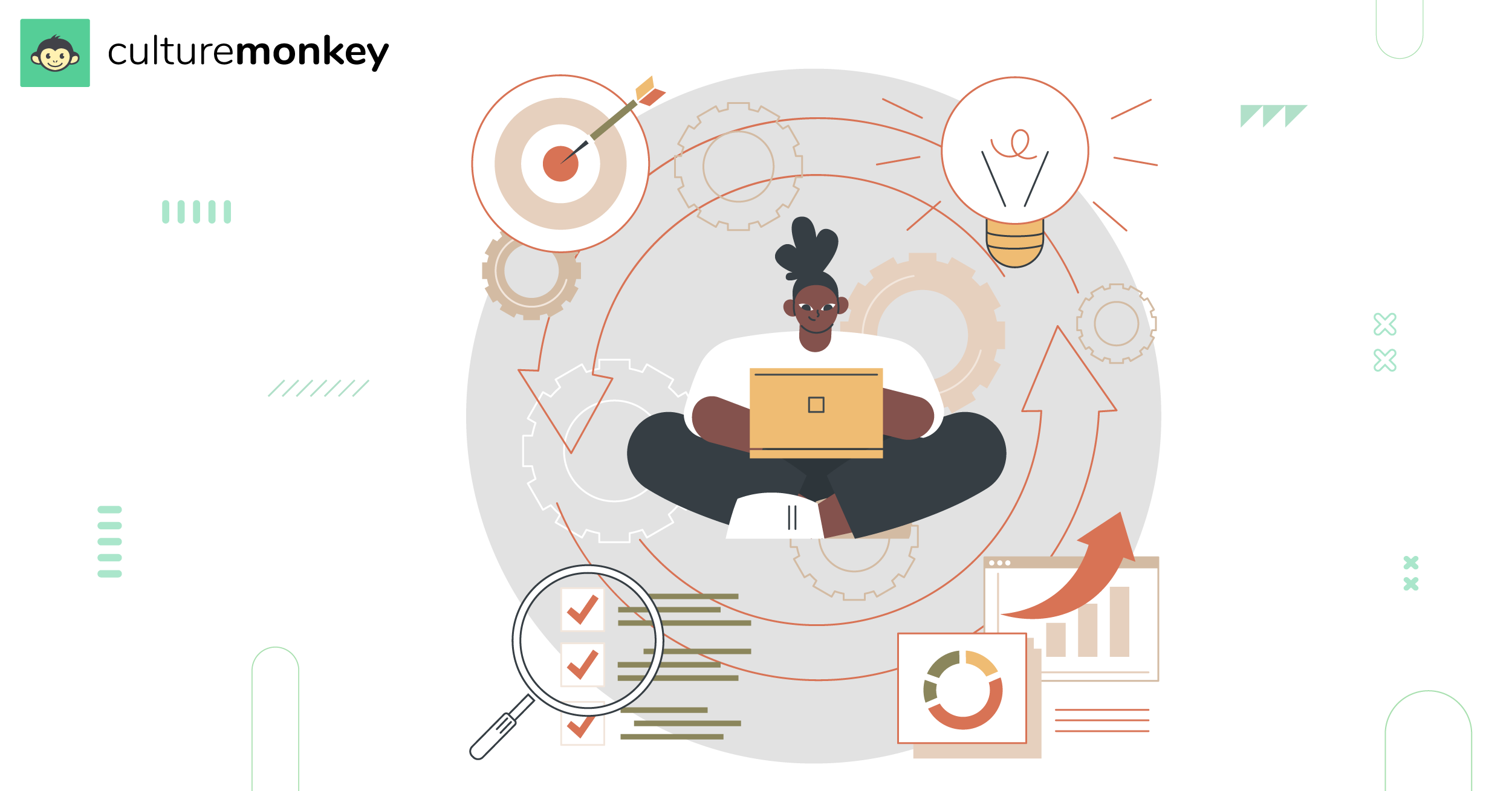 To send the right surveys at the right time, the accuracy of the data is very crucial. And, for you to create a culture where your employees feel cared for, you need to create an ecosystem of transparency and accountability.
Make employees comfortable in sharing their thoughts while keeping your employee data game really strong and efficient. Integrating Darwinbox with the employee engagement tool: CultureMonkey will leave no scope for data mismanagement.
4. Reduces HR burden and gives managers the ownership:
After employee feedback surveys are conducted, each manager can review the detailed report through their manager dashboard. Leaders with authority can view the reports and can analyze data by using multiple filters like manager name, department, geography, low score, high score, etc.
Through the heatmap functionality, managers can view the data in the magnitude of the emotion of the employee. All this in a single click, without any manual intervention. This helps organizations take action without wasting time compiling data and worrying about data being stale. And, there is no doubt in the fact that the faster leaders take action, the more engaged and committed their workforce is.
How do CultureMonkey and Darwinbox integration work?
With Darwinbox's exceptional features, revolutionary management, and seamless integration options, you can amplify your business results by collecting your customer engagement and employee engagement needs on one platform.

Step 1: Connect CultureMonkey and Darwinbox
Once you are on the CultureMonkey's integration page, click on connect Darwinbox to export all the employee data from your HRMS.

Step 2: Choose data fields through field mapping
Choose the order of the fields in Darwinbox to avoid any mismatch of data from the fields drop-down menu in the field mapping option and click "save" to initiate the first integration and successfully transfer the data.
Step 3: Fixing errors in data
If there are any errors in employee data during the initial sync & weekly sync from Darwinbox to CultureMonkey, an automated resync feature can fix those. Bi-weekly resync, twice a month, identifies errors and sends emails to the stakeholder and the dev team of CultureMonkey with a detailed report of errors identified and fixed.
1+1=11: That's how powerful CultureMonkey and Darwinbox integration is for your employees. Are you ready to try it for yourself?

Listening to the buzzword employee engagement and sending annual surveys may seem easy at the start, but noticing red flags and a high volume of disengaged employees can be excruciating. The most important aspect to keep an organization healthy is to look after your employees as much as your customers.
To gauge employee sentiments, running accurate surveys with efficient results is imperative. However, what needs attention is how you plant those surveys and what you do with those results.

With Darwinbox and CultureMonkey integration, we hope to make your lives easier by automating all your employee engagement and data management problems at one stop. Are you ready to grow your businesses with real-time insights into employee feedback and leave the manual systems behind?
Integrate now and automate processes for 100% accuracy.
If you're business that uses Darwinbox HRMS and you're looking to improve the workplace culture at your organization. Checkout CultureMonkey today!