Home Loan Experts (HLE) is Empowering its Managers to Drive Team Engagement with CultureMonkey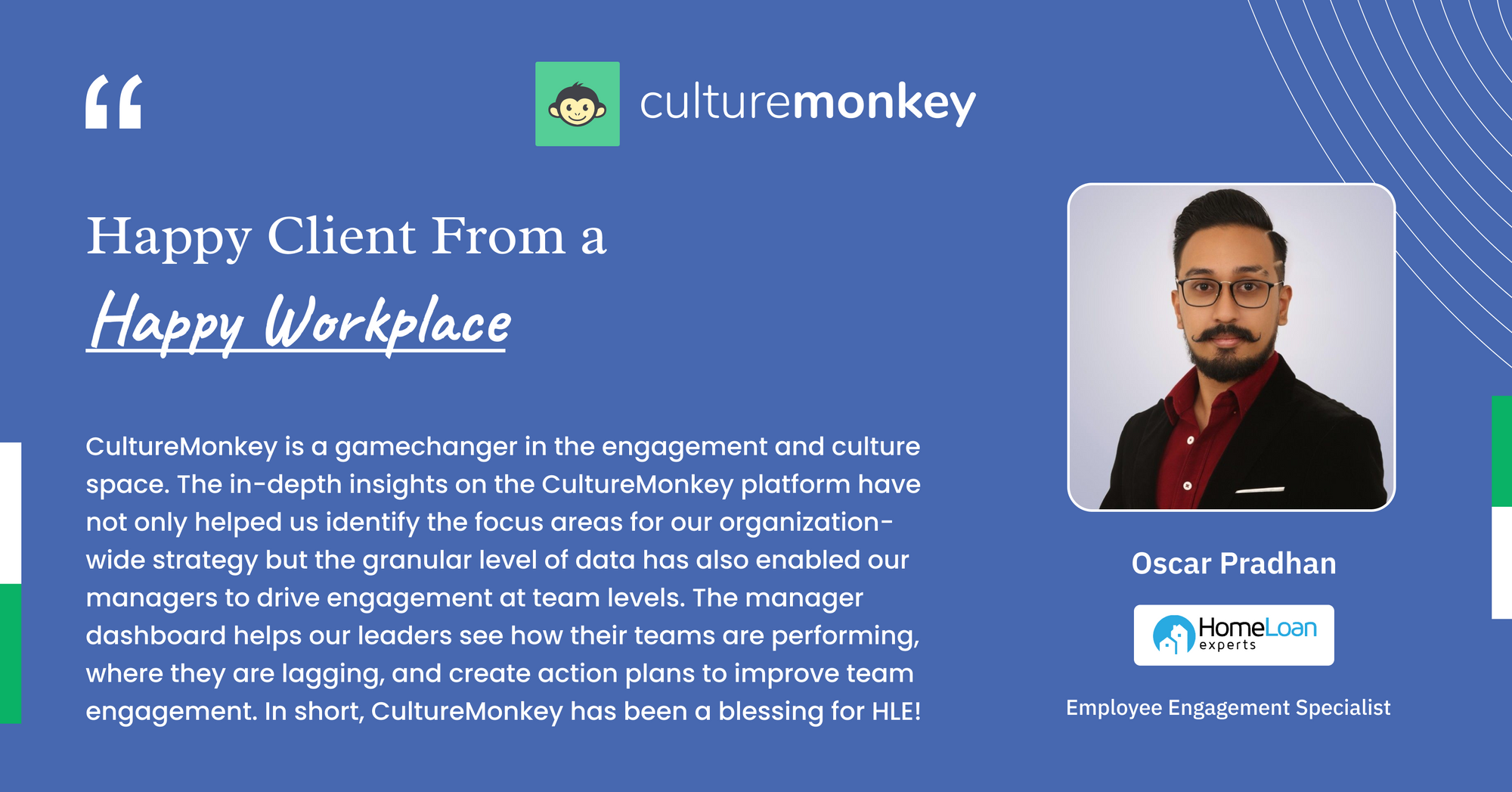 Home Loan Experts is Australia's leading specialist mortgage broker. Established in 2006, the award-winning company is both a member of the Finance Brokers Association of Australia (FBAA) and Australian Financial Complaints Authority (AFCA).
Since its inception, HLE has been hyper-focused on its workplace culture and human resource. One of the top employers of choice in the mortgage industry, HLE takes pride in being a people-first organization. It actively invests in its people, has built a world-class employee experience, and takes employee engagement very seriously. It is also one of the rare few organizations that give its employees culture training.
When we first connected with HLE, they had been running employee engagement surveys annually for quite some time. However, as the employee count began increasing, listening to every employees' feedback, analyzing all the employee data, and coming up with action plans had become challenging.
"Five people taking 60 days to analyze the data from our annual survey meant a lot of time was lost between running a survey and acting on the employee feedback."
---
---
CHALLENGE
Manual employee surveys failed to accurately quantify employee engagement
"Manual interpretation of survey data is prone to errors and quantifying the descriptive questions or even the softer aspects of business, like engagement and happiness is quite difficult without the help of data scientists or an HR technology platform."
When it comes to running manual employee surveys, the challenges in front of HLE's Culture & Employee Engagement team were multi-fold.
Erroneous insights: Manual interventions are prone to both, human errors and our individual and systemic biases.
Extremely time-consuming: Running surveys manually and then analyzing the results takes a lot out of an HR professional's precious bandwidth.
Limitations in measurement: Analyzing open-ended and descriptive responses + quantifying some of the more complex aspects of engagement can be almost impossible manually.
Restricted visibility: Digging deeper into employee anonymous feedback and getting to the root cause of some of the insights is not possible in a manually run survey.
Clearly, for HLE, the inability to get a full view of how employees were feeling at work and what they thought about HLE's people initiatives put the Culture & Engagement team at a disadvantage.
Despite their proactive approach to improving workplace culture, HLE couldn't pin down their successes, misses, strengths, and areas for improvement, which curtailed the extent of impact the team could have on its people strategy.
SOLUTION
Data-driven organization-wide and team engagement strategy
HLE leveraged the CultureMonkey platform to run its annual employee engagement survey. From taking 60 days for just analyzing the survey results, with CultureMonkey, HLE completed running the survey and analyzing the data in less than 10 days.
The Culture & Engagement team then conducted detailed discussions with the managers and through CultureMonkey's manager dashboard gave each of them access to their team's data. This way, the managers could see the score for each engagement driver within their teams, understand where their teams were performing great, and where they were lagging. As the next step, each manager defined an action plan to improve the scores within the team.
"At a company level, the insights from the survey have helped us plan the focus areas for next year and at a team-level, each of the managers is creating action plans to improve team engagement. CultureMonkey has helped us decentralize engagement and bring managers into the fold of driving employee engagement at HLE."
IMPACT
A continuous employee engagement improvement system led by managers
"Last year five of us took 60 days after the survey to create a report and this year, we have an in-depth report ready in less than six minutes."
HLE's first employee engagement survey served as a baseline for future assessments, and to track their progress in employee engagement over time. With the insights from the survey, HLE is running programs to enhance its employee's happiness and satisfaction at both, an organization-wide and team level.
By the time of their next survey, they'll be able to evaluate and quantify the impact of their efforts and thereby put in place a continuous employee engagement management system driven by technology.
Reduced manual dependencies
Data-informed people management strategy
Decentralized approach to employee engagement

"This is only the start. In the coming few months, we are planning to launch pulse surveys, lifecycle surveys, onboarding, and exit surveys. CultureMonkey is helping us have in place a continuous management system for employee engagement and culture."