Why you need pulse surveys to understand your employees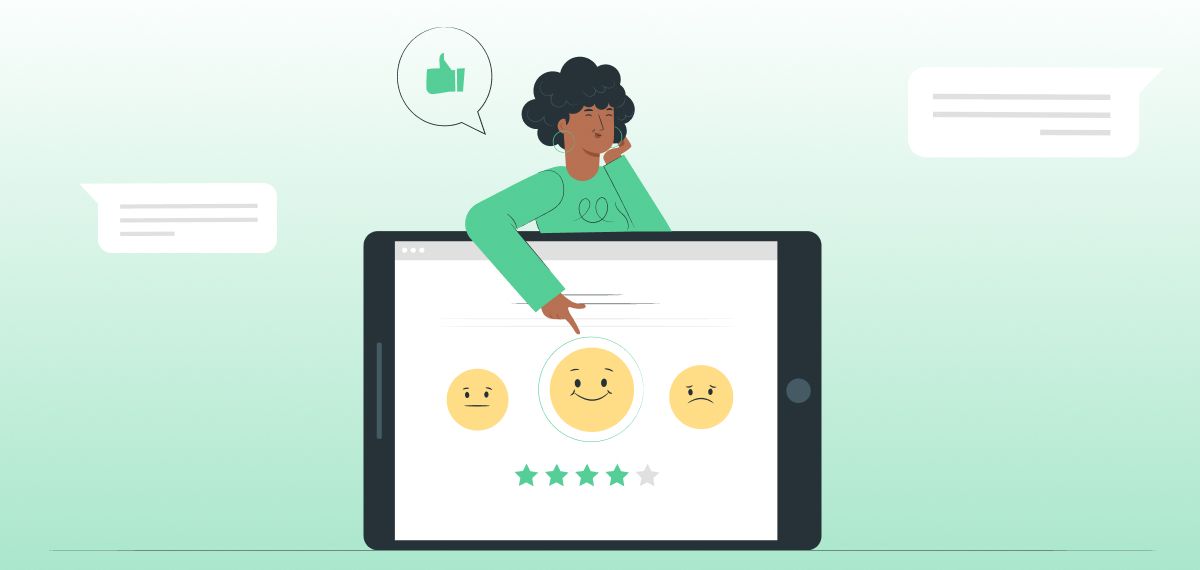 Creating the right culture in a company is not just a week-long process where you take all your employees for a getaway to a beach resort and bring them back to a life of drudgery. Culture building is a long and continuous process—creating an empathetic and collaborative mindset on the pillars of the core values of the company. It is not mere garnishing of perks and casual Fridays, but a series of dedicated efforts to put employees before revenue.
Most leaders assume that creating a "cool" workspace is enough to attract and hire talent. They are forgetting one crucial piece— the importance of valuing and retaining talent. To build an employee-first company, you must understand your employees.
Without understanding what your employees need, you cannot create the right experience for them. To do this, you must be consistent with your efforts.
The key to understanding your employees
The best way to understand your employees is to ask them how they're doing, the bottlenecks they're facing, and what they need to be able to move ahead. Your employees need to know that you care enough to understand them to create a better experience for them. So, how do you ask them exactly?
The simple way to do this is by sending out surveys and questionnaires. This has been the standard procedure in most companies. HRs and leaders send out yearly surveys to their employees asking about their strengths and weaknesses while trying to decide their yearly increment.
Is that enough? Sadly, no. Annual surveys meant for self-evaluation don't do the trick anymore. Companies have realized that it's important to reach out to employees regularly rather than just keeping it as a yearly ritual. After all, you can never understand your employees through just one template of interaction.
Why annual surveys don't work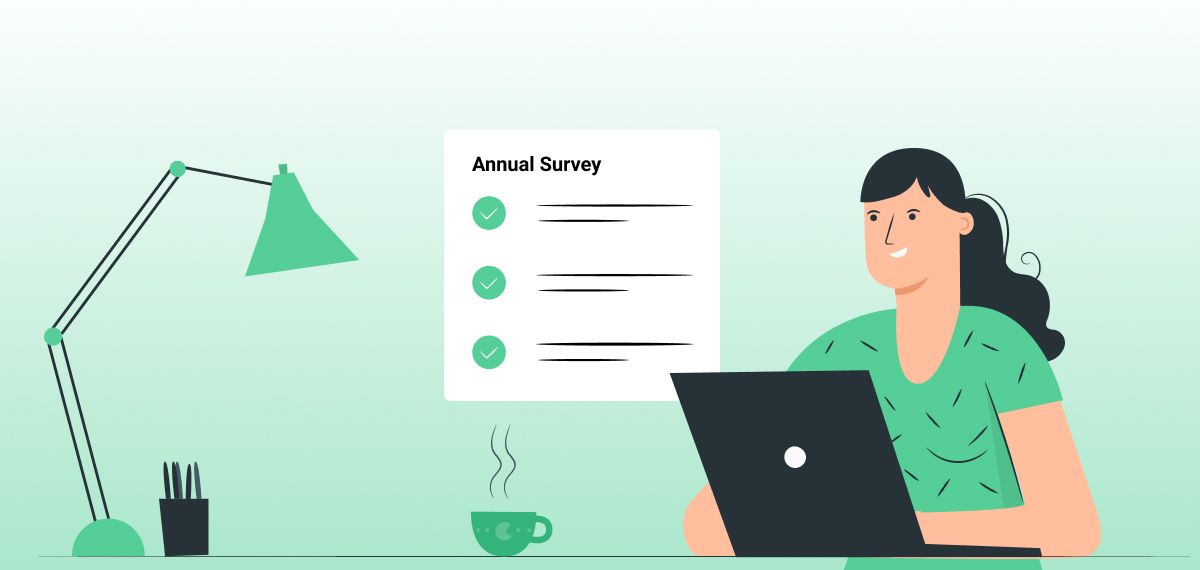 Rima, an HR in a growing startup, realized the importance of breaking out of this yearly ritual. She understood that people do not actually speak their heart out or even mention the real problems in those yearly surveys. She figured she needed to give her colleagues better opportunities for voicing their concerns. She started talking to the workforce and also did her bit of research before sending out the yearly surveys. Rima knew she had to change her strategy. During her interaction with the employees, she realized two very important things:
Surveys need to be more frequent
Real issues have to be addressed in surveys
Since annual surveys have a history of failing employees, HRs all over the world are now sending more frequent surveys that help employees being heard by the management. A good replacement for annual surveys is pulse surveys. Pulse surveys are short questionnaires, mostly containing five to ten questions, that aims to understand an employee's concerns and work on their feedback.
How pulse surveys are better than annual surveys
Pulse surveys have fared better than annual surveys for a lot of reasons. Employee pulse surveys work faster than annual surveys because these are sent out to the employees on a weekly or monthly basis to monitor various aspects of an employee's experience. HRs know that sending out long surveys never motivate employees to take the survey, with most employees highly unlikely to complete these long surveys.
The HRs are now able to recognize that survey fatigue is a real issue. Most employees avoid spending their time filling out long surveys. If the engagement levels are low, then there's no way for HRs and leaders to understand what employees need.
Designing the perfect pulse surveys for your employees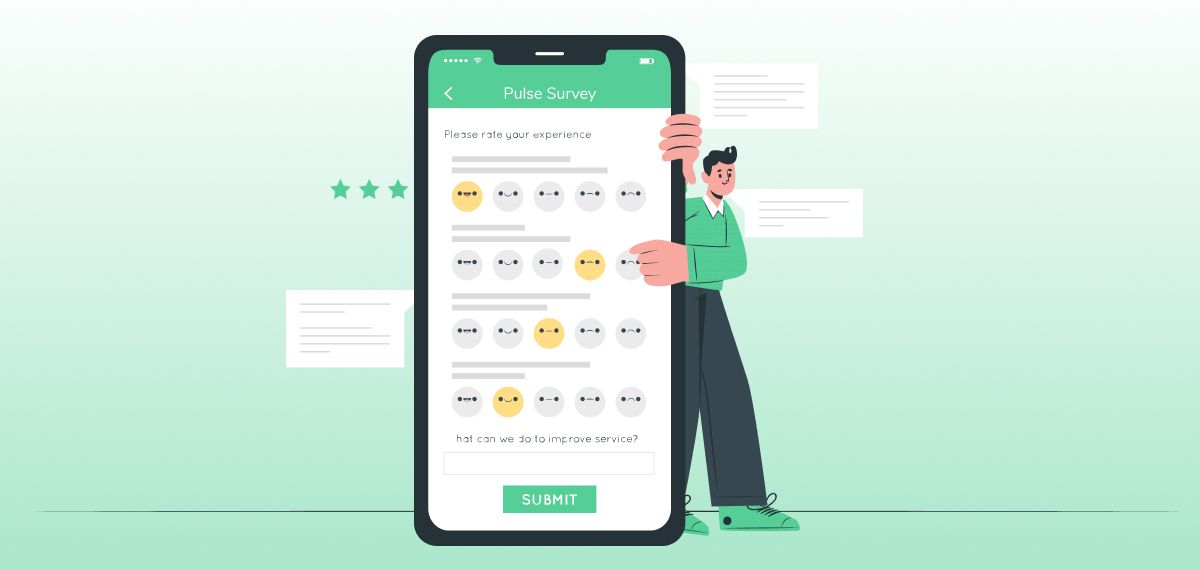 There are many aspects involved in creating the right employee pulse surveys. The objective of these surveys is to understand the pulse of the workplace through the employees. This means that HRs must include the right questions in the survey, time the survey frequency, and take actions to work on the employee feedback.
The easiest way to do all of this is by using an employee engagement platform that helps HRs create the right employee pulse surveys and in turn, build the right company culture. CultureMonkey, an employee engagement platform, helps HRs design surveys for their employees as per their requirements. Take a look at what CultureMonkey pulse surveys offers you:
Pre-built pulse survey questions
CultureMonkey has a selection of more than thirty curated questions that have been carefully researched to give you a holistic understanding of your company's pulse. These pre-built questions are formulated to help you measure and track the fifteen organizational drivers over the entire year.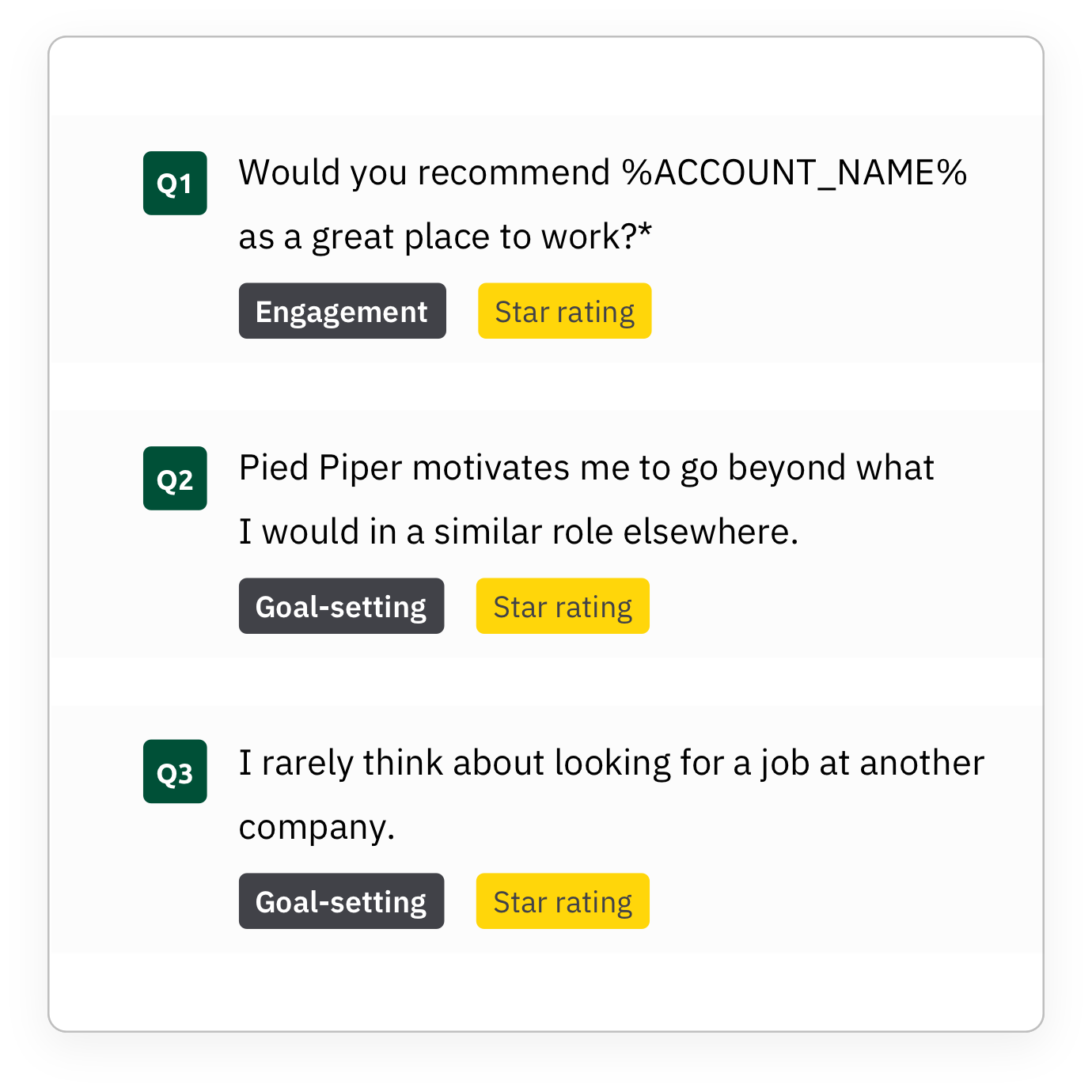 Varying pulse survey frequency
You can change and control the frequency of your pulse surveys as per your needs. You can choose to select the four options of survey frequency—daily, weekly, bi-weekly, or monthly—through CultureMonkey. This gives you the freedom to choose the frequency as per the objective of the survey.
Overview of all pulse surveys through a visual timeline
CultureMonkey makes it easy for you to visualize the entire timeline of your surveys, including the past and future, to give you a comprehensive understanding. You can also see the scheduled dates of all surveys along with the organizational drivers each survey is intended to measure.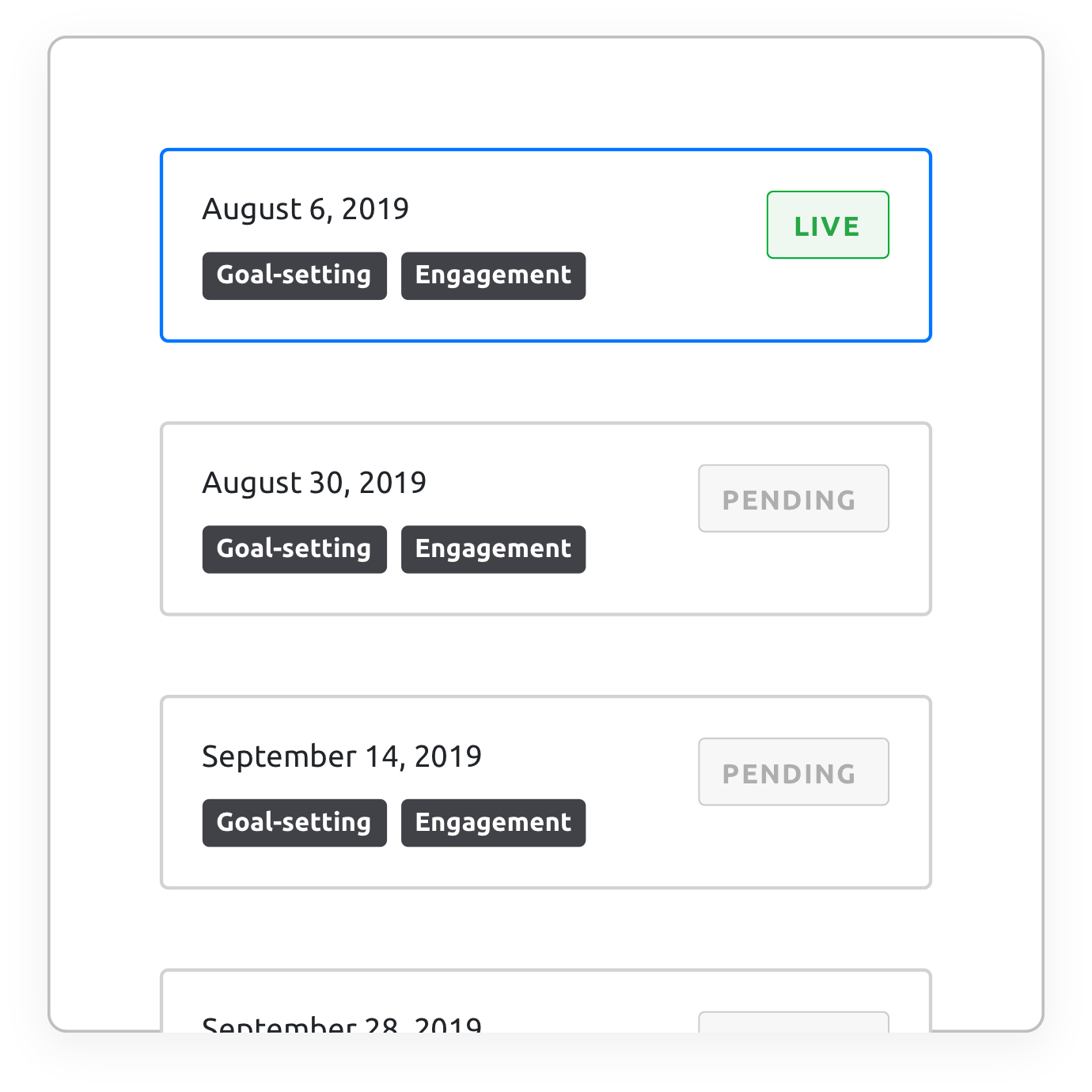 Anonymous surveys for honest feedback
The anonymity feature gives employees the freedom to voice their honest opinions without the fear of being judged or any favoritism being displayed. This empowers employees to engage with the management without any fear of consequences, thus, helping to build a transparent culture in the company.
Feedback on each survey
All pulse surveys come together with the feature of anonymous feedback which allows employees to give their opinion along with their response to the survey questions. This feedback feature is optional and can be opted by employees to further address the issue mentioned in the survey questions so that leaders can start work on solving them.
Quick highlights of pulse surveys
The CultureMonkey dashboard allows HRs to see concise versions of reports which helps them understand the highlights of these reports. This feature is called Quick Digest and indicates the biggest concerns that HRs and leaders need to address. Quick Digest also reveals the greatest achievements that show HRs the right things they are doing.
Feedback analysis via AI and ML
CultureMonkey uses Artificial Intelligence and Machine Learning to dissect all feedback analysis (via the pulse surveys) to give you an overall understanding of the feedback received. These insights are categorized in terms of sentiment—positive, negative, and neutral—which helps you learn how your company is doing and how employees feel about your company.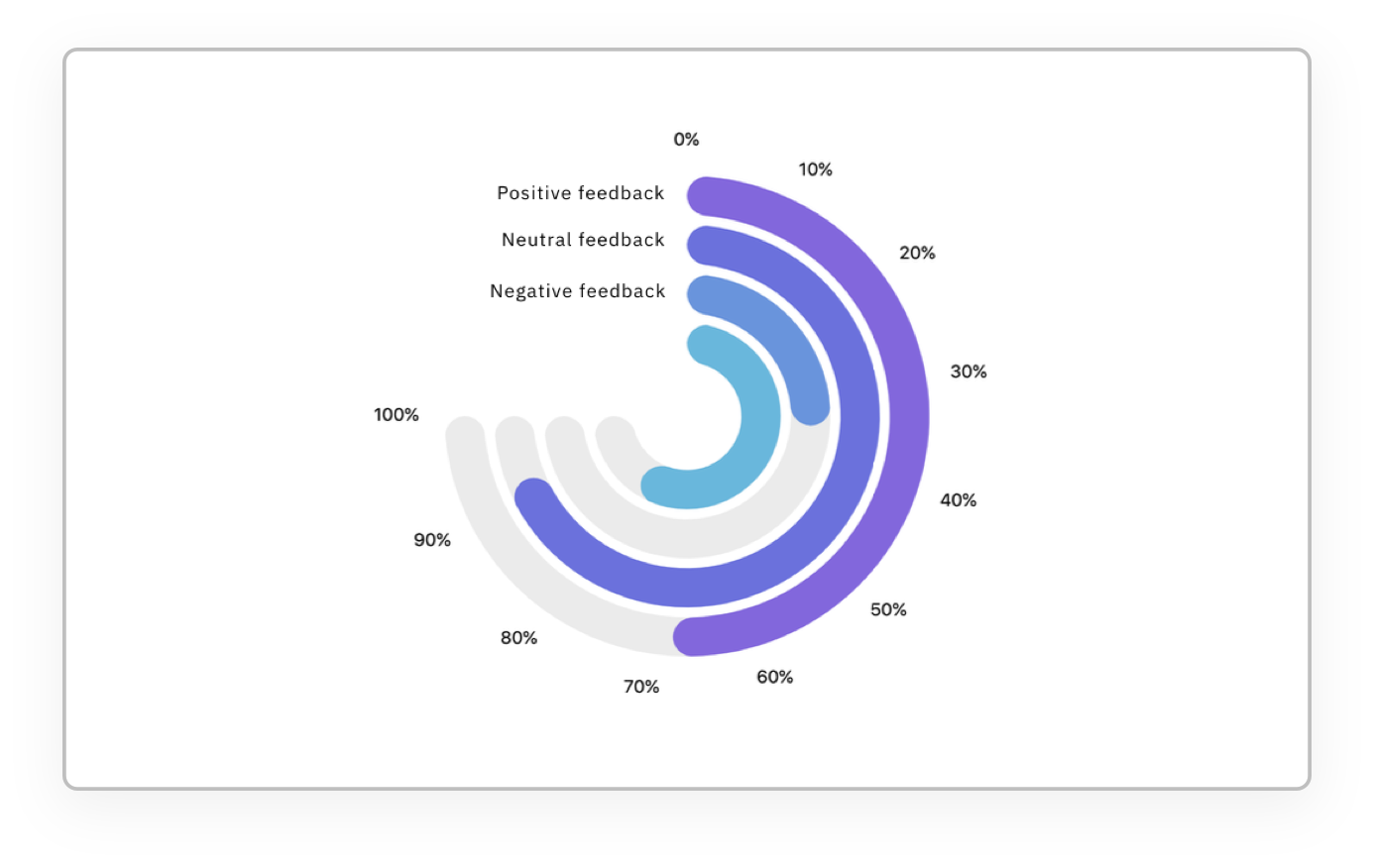 Heat map of pulse surveys
Understanding the engagement levels of different factors of a company is crucial to understanding the company's pulse. CultureMonkey's dashboard enables HRs to gain insights into the engagement scores across various teams, genders, locations, employee type, reporting managers, etc. and identify each team's low and high scoring drivers.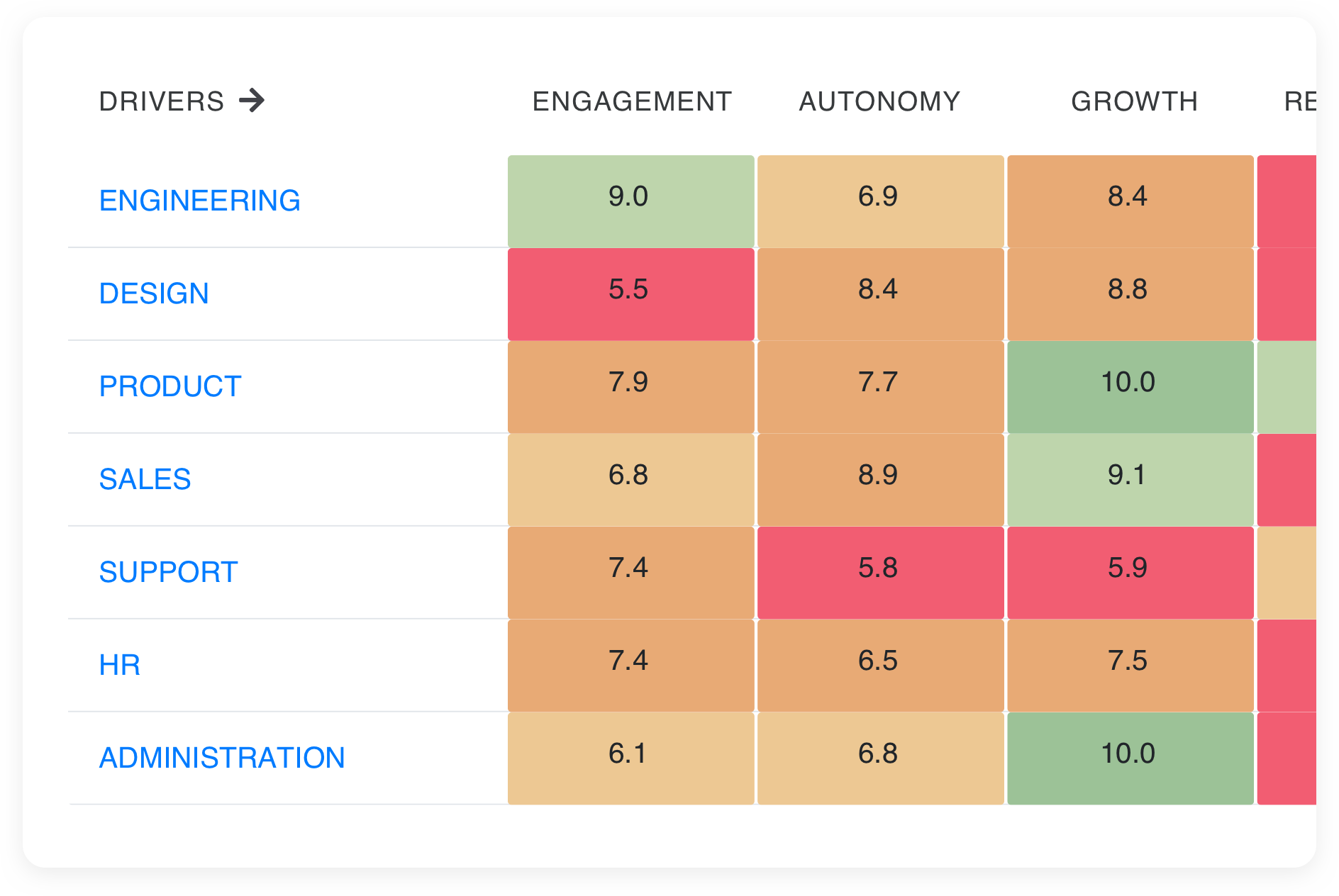 Industry benchmark comparison
It's important to know where you stand according to your industry's standards, be it in terms of product quality or employee experience. This is why CultureMonkey helps you track and measure fifteen different drivers that together determine your employee's experience in your company. Studying drivers like leadership, management, work-life balance, and more helps you to identify which sectors need improvement and which deserve praise.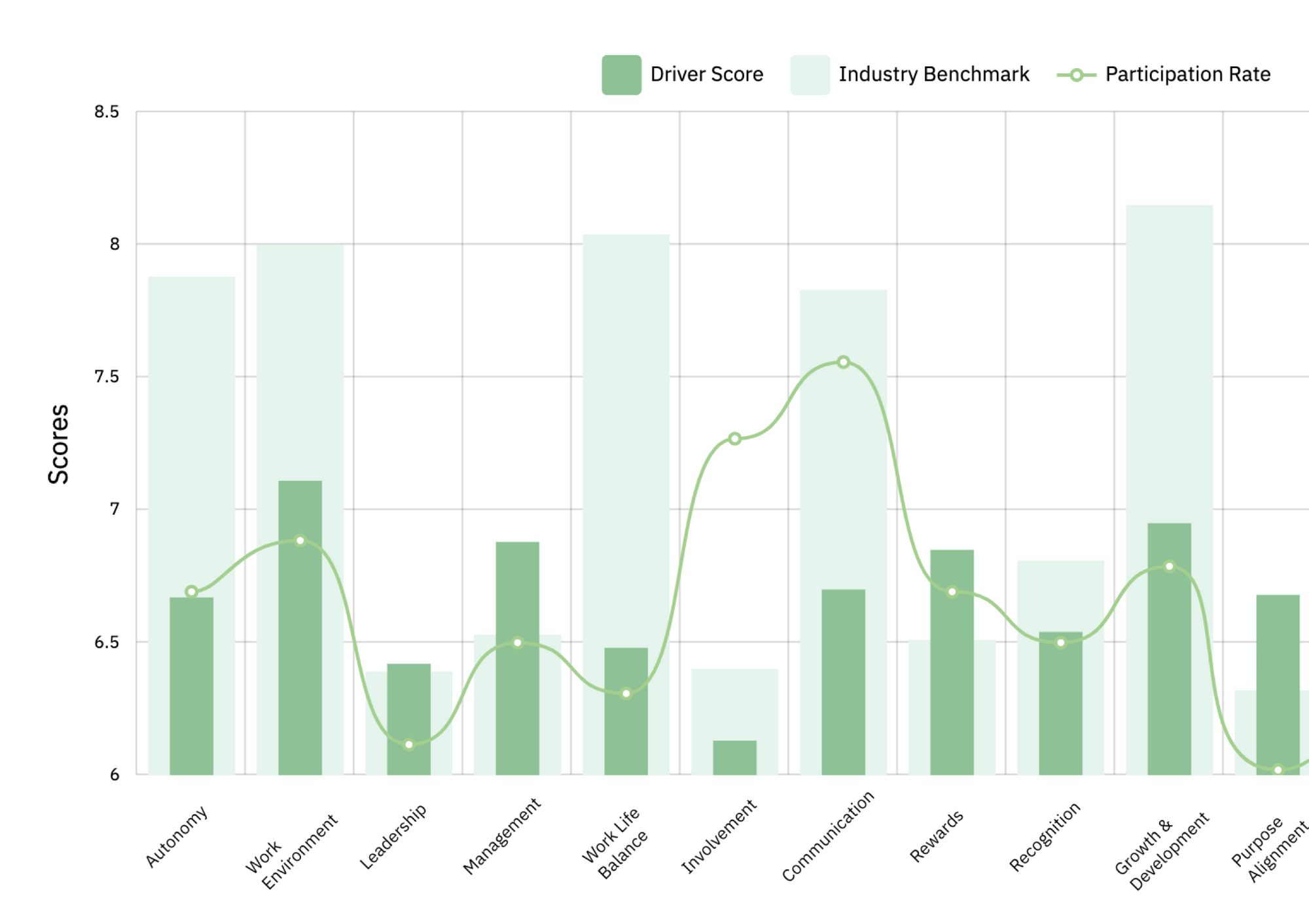 These much-needed features of employee engagement pulse surveys make it easy for you to create better employee experience and company culture. Remember, your employees determine the success of your company. Listen to them and act based on their feedback.