Getting employee wellness right - Benefits of wellness initiatives & questions for your next team wellness survey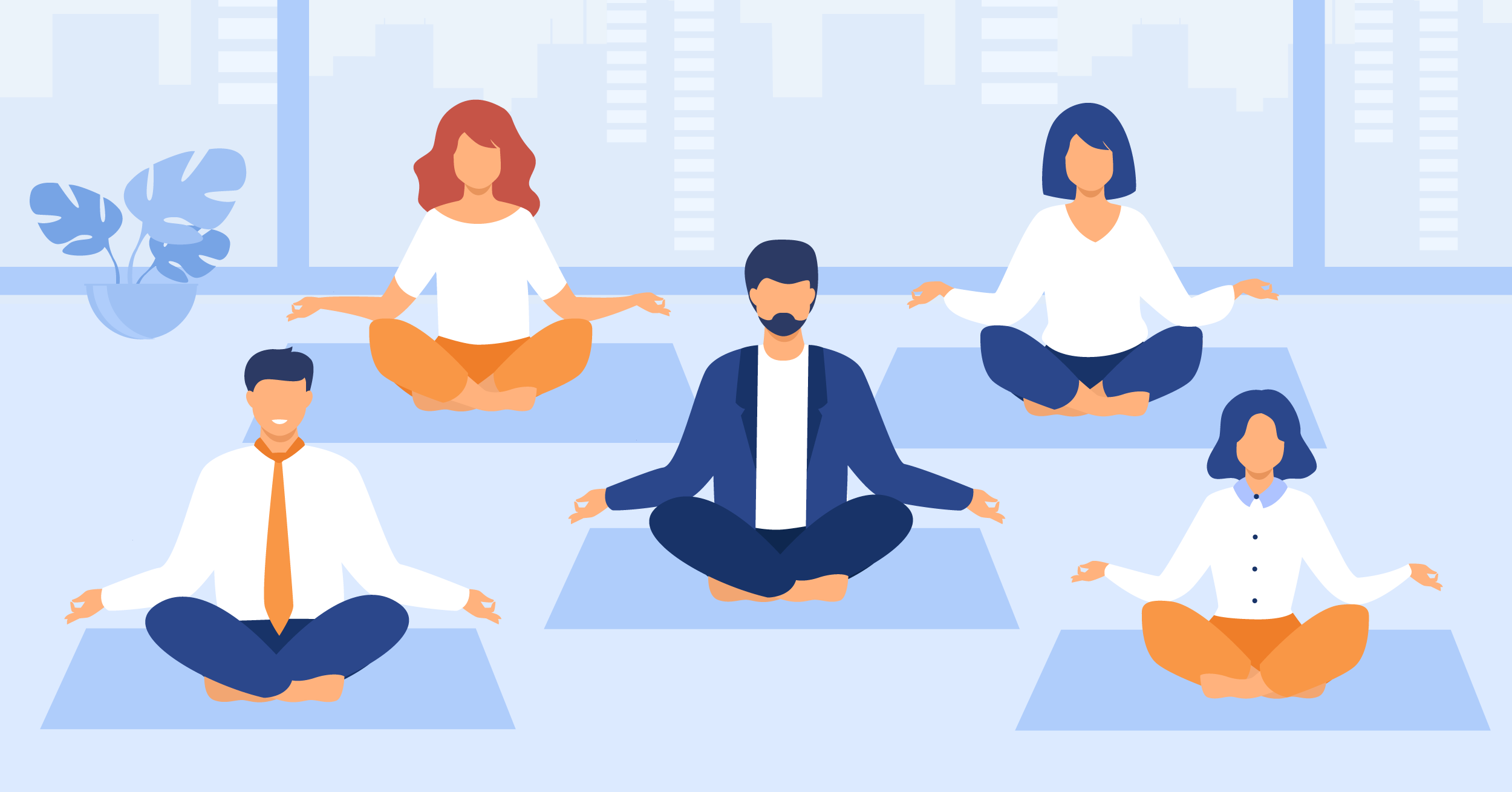 "Welcome to the XYZ family" - this is the first text that most companies have in their new employee onboarding email.
But do organizations really care about the workplace wellness of an employee, who they just called a family member?
A lot of employees might choose to disagree as they are constantly subjected to overtime work and undue work pressure.
And now, with the advent of the hybrid work model, things have only gotten more complex with the blurring of the line between work and personal life.
This is where an employee wellness initiative could step in and save your day as an employer.
Employee wellness strategy is a cumulative of various initiatives to promote the health and wellbeing of fellow employees across various dimensions - physical, emotional, psychological, and more. For instance, gym memberships serve the physical dimension of employee wellbeing.
For the most part, people take a single-dimensioned approach to employee wellness with a distorted focus on physical wellbeing. It is only recently, in the wake of the pandemic, that people have become aware of the importance of the emotional and psychological aspects of wellbeing.
What are the benefits of employee wellness initiatives?
Before you set up a wellness strategy for your employees, let us try to understand why it is needed, how to set it up, and what value it adds to your engagement goals with an example.
Dwight is a sales executive who is working for an XYZ company and has back-to-back meetings every day.
The company where he works takes employee wellness seriously and has employee wellness programs in place with numerous benefits for its staff - gym membership, a chatbot that frequently asks the employees how they are doing on a particular day, wellness challenges, etc.
But the truth is, Dwight hardly finds time either to go to the gym or respond to a chatbot.
Naturally, all these initiatives are not adding any value to Dwight's workplace engagement or his wellbeing.
Gallup has found that of the companies that offer wellness programs, only 24% of employees are participating.
Initiating wellness programs is not enough. HRs need to ensure that employees have access to these programs too. At the same time, holistic employee wellness brings in its fold more dimensions than one:
Physical wellness
Emotional wellness
Financial wellness
Social wellness
Occupational wellness
Intellectual wellness
Psychological wellness
As an HR, you will need to keep in mind all these dimensions while setting up an employee wellness program.
Initiatives like flexibility in leave policy, the ability to schedule meetings such that they are not back-to-back, and policies like shutting the laptop sharp by 7 PM in the evening are all counted as wellness intiatives too.
A well-planned wellness program can:
Improve employee engagement
Lower turnover rate
Improve your company culture
Improve productivity
With that said, let us see how wellness can be analyzed and quantified to help you improve it.
Employee wellness survey questions
One-size-fits-all might be true in the case of ankle socks but not in the case of employee engagement.
Every organization is different and what works for your HR friend's company probably might not work for yours. This is why you, as a leader, need to measure if you are initiating the right wellness strategy for your employees or not. And that can only happen if you initiate a conversation with them.
To improve your wellness strategy, you need to stay on top of the wellness of your employees and how well they are utilising your wellness initiatives. And the fastest way to get employee anonymous feedback on wellness could be to run a survey.
Here is a collection of questions curated by us for you to pick and measure the workplace wellbeing of your employees.
On a scale of 1 to 5, how would you rate your overall workplace wellness?
Does your workload feel manageable to you?
Can you openly discuss your problems with your manager?
Do you feel comfortable working with your colleagues?
Has remote work negatively impacted your work-life balance?
What do you think is an acceptable duration of any office meeting?
Do you get a chance to take enough breaks during working hours?
Has the wellness program at our organization helped enhance your overall wellbeing?
Do you think we should provide stress and anxiety management solutions to our employees?
What do you think we can do to improve employee wellness in our organization?