CultureMonkey and Zoho People integration: Automation to boost your employee engagement strategy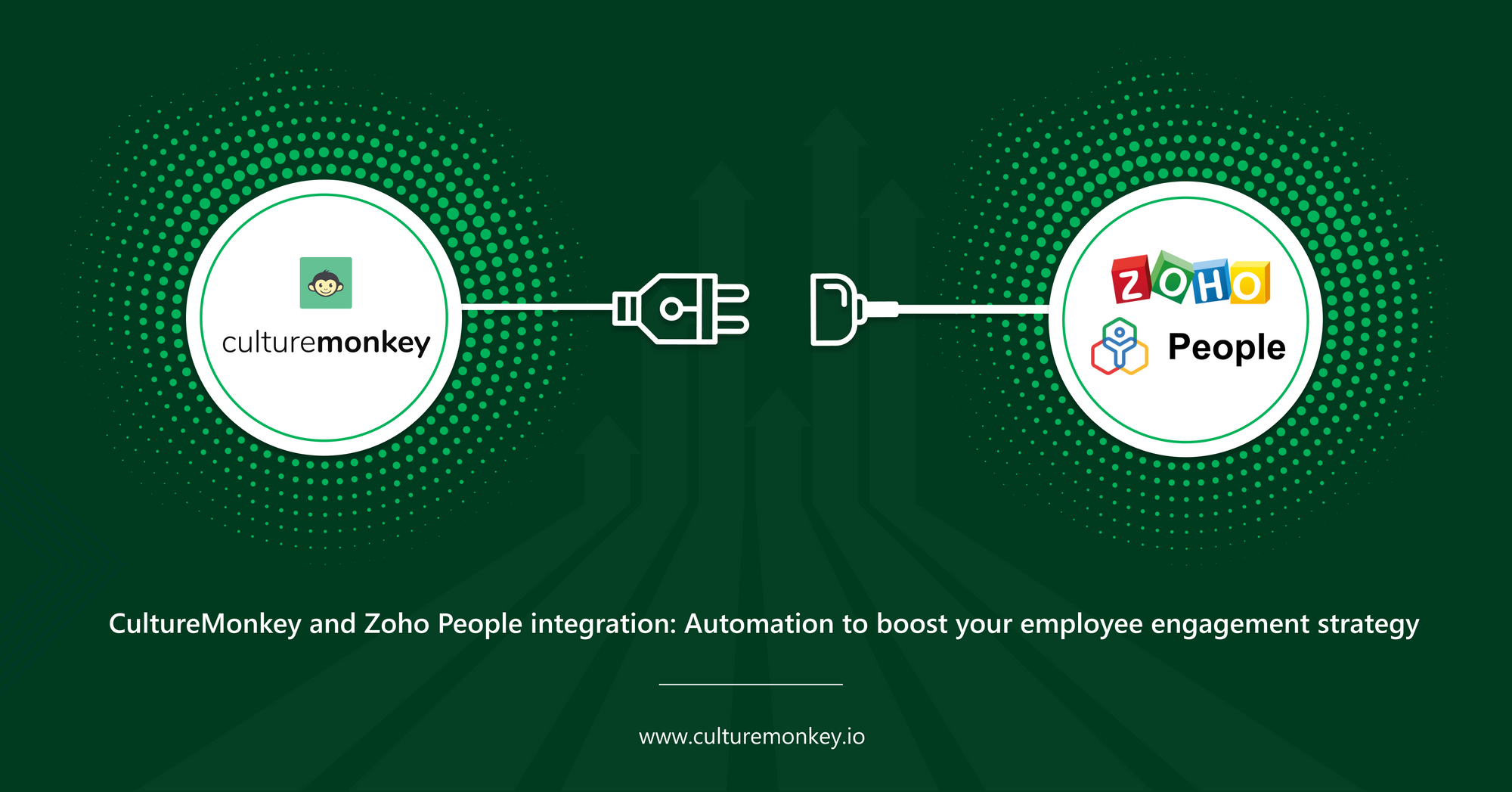 If you had to pick a side, which one would it be?

Side A: An organization that realizes the importance of employee engagement and why it's the most buzzing word, but does nothing about it?

Or Side B: An organization that swiftly takes actions to jump on to the opportunities and pool in all necessary resources to enhance their employee engagement and make the most out of it to improve their company culture?

If at all you chose side B, we strongly believe you are the kind of leader the world needs right now! Assuming you are an HR leader of a company with X employees, how difficult is it for you to manually upload all your employee data? Managing data of a team of 50 or 1000 employees can be very strenuous. You possibly spend days and weeks handling the data.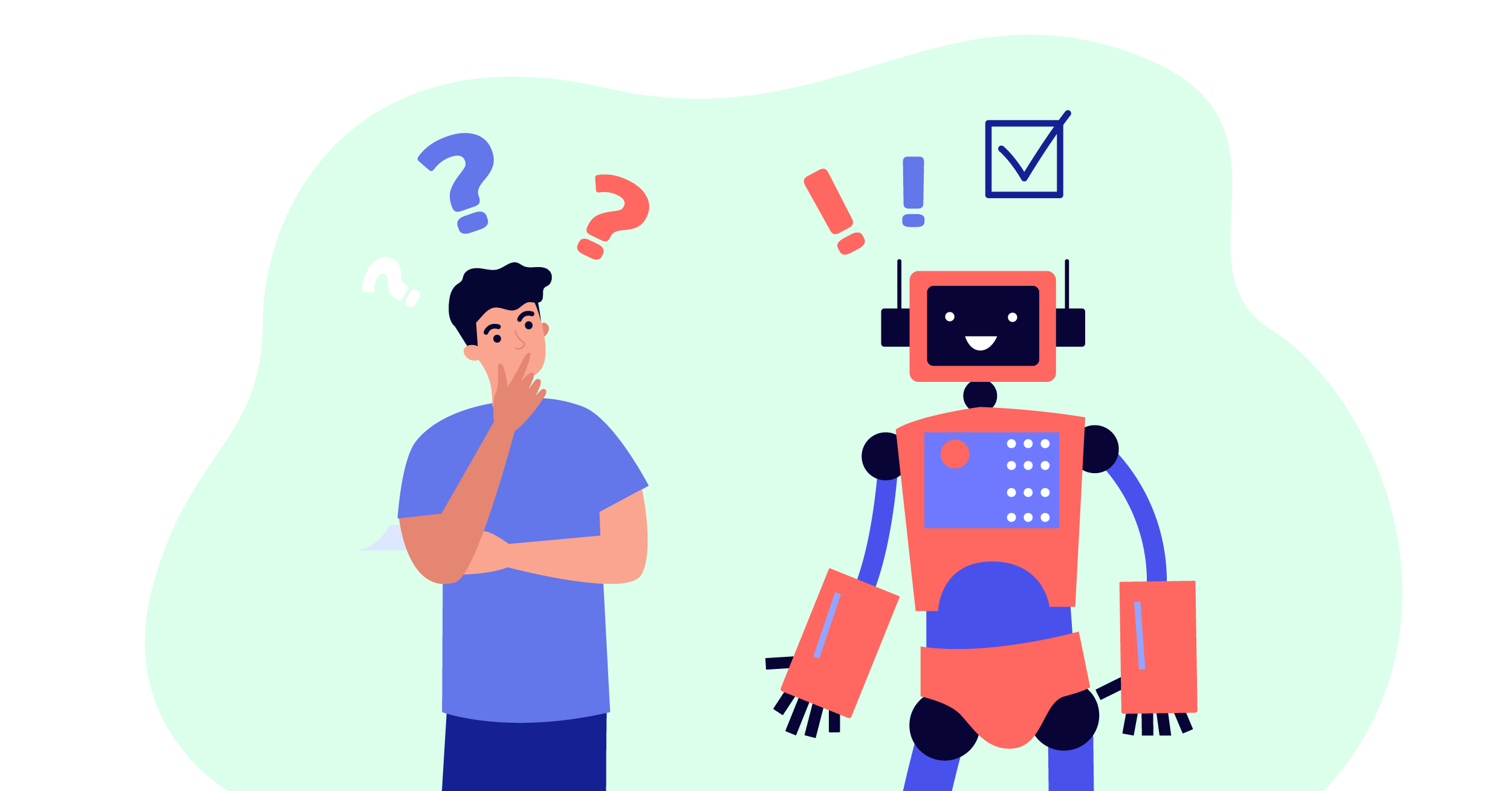 Now imagine having an employee engagement tool that can seamlessly integrate with your HRMS and automate employee data processing in real-time?

Yes, you've got it right. That's what Zoho People and CultureMonkey integration can do for you! Now, you do not have to worry about importing data manually from your HRMS or about setting up lifecycle surveys time and again. Simply integrate with this gold mine and leave your troubles with us as you scale up your organization with multiple hiring cycles.
How does CultureMonkey and Zoho integration help HR leaders progress?

In today's fast-paced world, nobody has the time to go through manual processes. Henceforth, using the right tech for people is imperative. This integration is a big leap for HR leaders as they can now focus on delivering greater results.
1. From adding employee data manually to automating the process:

Pain area: HR leaders have to manually add or update detailed employee data on their employee engagement platform, which takes a lot of time and effort.

Solution: With CultureMonkey's integration, every Zoho People HRMS user can seamlessly sync their employee data in under 10 minutes. All they have to do is update the employee data into Zoho people, authenticate CultureMonkey and see the magic.  

2. From lost data to instant change in any employee record:

Pain area: As companies expand, they witness frequent changes in employee records, from their onboarding date to exit dates. All this data can be lost or often left un-updated as companies try to match pace with dynamically evolving workplaces.

Solution: Timely updating data is the key if companies want to jumpstart and adapt faster to the changing dynamics. With Webhook automation, the employee records are automatically synced with CultureMonkey's employee engagement app whenever any detail is added, edited, or deleted. HR leaders do not have to worry about scanning through employee data, making a note of their onboarding and exit dates, and sending employee surveys in accordance.

All they have to do is sit back and relax! Automated syncing will manage and allow CultureMonkey to scan through their working history and send automated lifecycle surveys spread across the employee tenure. You can now send surveys and gather anonymous feedback in seconds to improve employee engagement and efficiency.
3. From manually detecting data errors to using technology to handle them:

Pain area: While uploading data manually, some crucial employee data could be entered incorrectly or skipped altogether in haste. Verifying uploaded data diligently by putting in a lot of human effort can be exhausting and cumbersome.

Solution: CultureMonkey's sync validator will automatically rectify the errors in the uploaded data and notify the HR leaders through email in case of mismatched, incorrect, or missing data of an employee is identified. Automatic sync takes place every Tuesday and Friday ensuring maximum accuracy of the conducted surveys.

This helps HR leaders maintain proper data and also give accurate actionable insights into the employee sentiments.
Why CultureMonkey and Zoho integration is the need of the hour for your organization?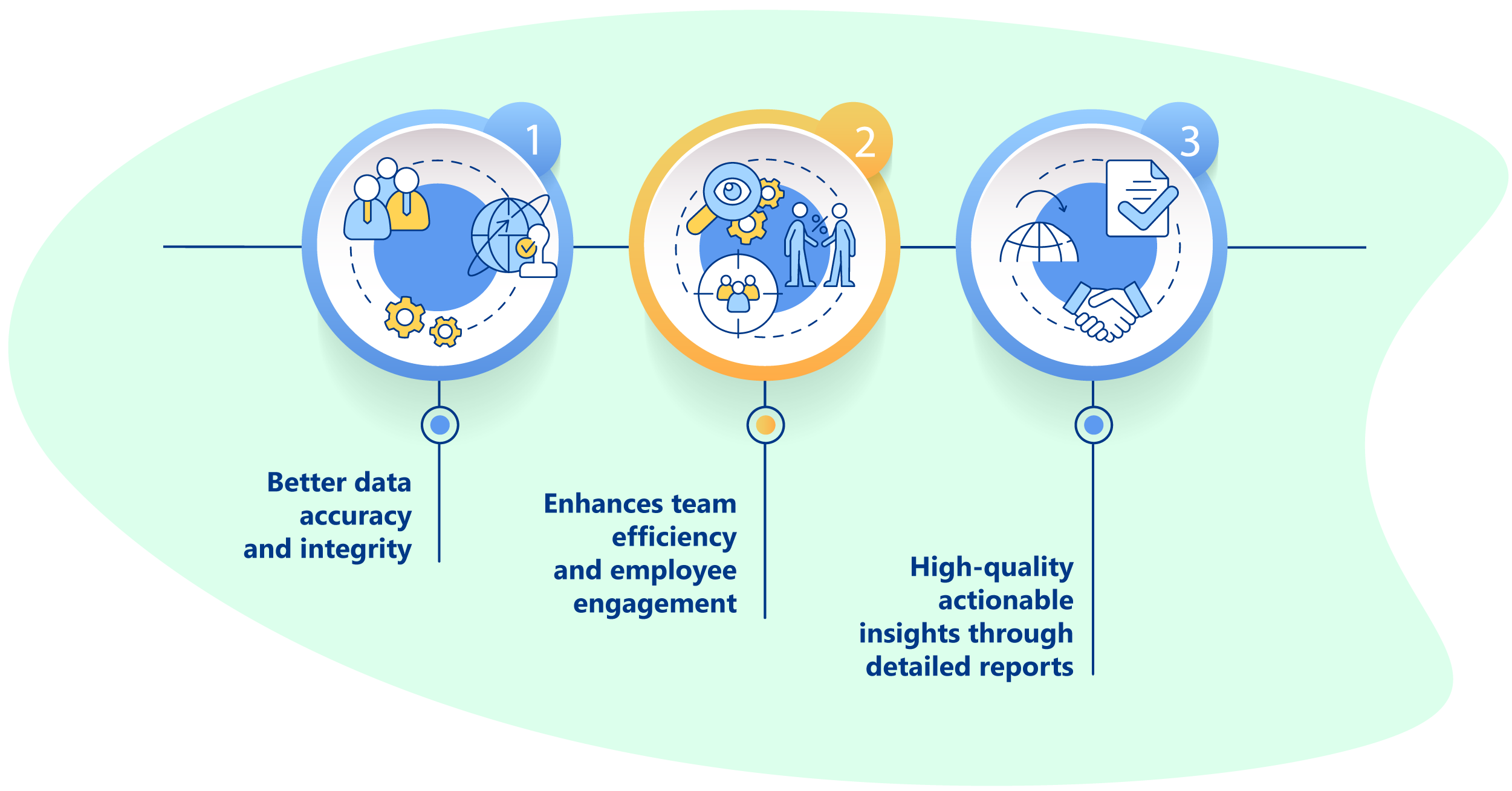 1. Better data accuracy and integrity:

Your HR data is very sensitive for your organization as it records all personal details as well as details of recruitment, onboarding, performance management, payroll, and retirement. Data collection and management are prone to human error when done manually.

With CultureMonkey's Zoho people integration, survey processes and employee data are managed and updated automatically in real-time, with 99.9% accuracy vastly improving the efficiency of any organization.

2. Enhances team efficiency and employee engagement:

The biggest traction for employees, especially the ones who've just entered the ecosystem is constant feedback. With real-time feedback and lifecycle surveys, an organization can ensure that its employees feel valued and engaged.

To send the right surveys at the right time, the accuracy of the data is vital. Imagine with incorrect data, in a lifecycle survey chain an exit survey is being sent to an employee who is just 2 months old. Thus it is essential to establish constant and accurate listening in your organization to create a culture of transparency and accountability, where your employees will feel comfortable and have a sense of belonging. And, CultureMonkey and Zoho People integration solves the root problem all at once.

3. High-quality actionable insights through detailed reports:

Your employee feedback is a gold mine. If you keep analyzing your feedback without a clear picture of the actions to be taken, then you will lose out on the gold nuggets.

With Zoho and CultureMonkey integration, every single detail of the employee is pulled into CultureMonkey records. For instance details like tenure in the organization, the departments they are working for, or the geography in which they currently are posted. With access to little details like these, CultureMonkey creates advanced survey reports from each employee feedback resulting in clear access to employee sentiments.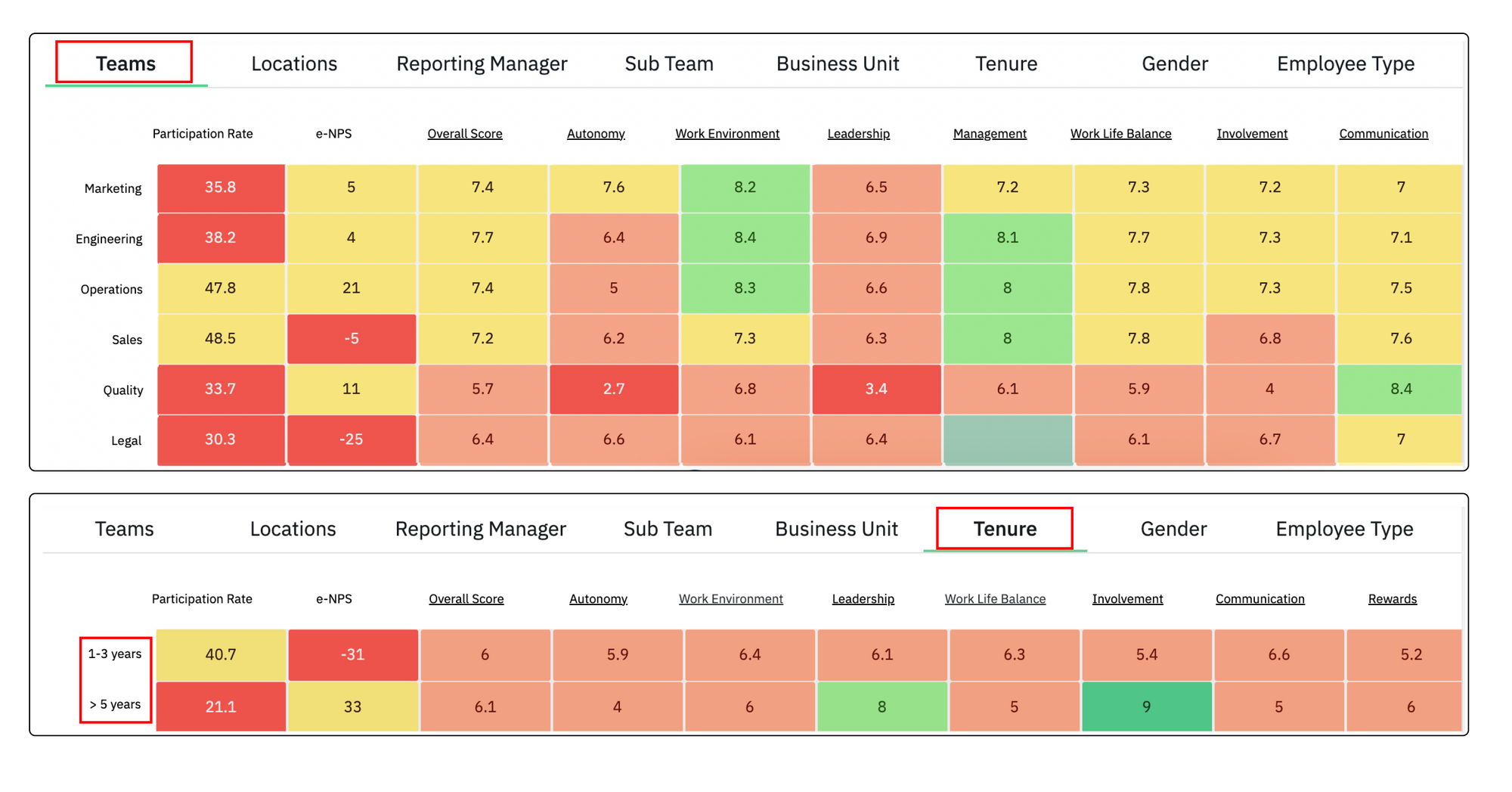 Each manager has access to the report via the manager dashboard. Organizations on a whole can filter the data on parameters like a manager, department, geography, low score, high score, etc. Through the heatmap functionality, managers can view the data in the magnitude of the emotion of the employee. All this in a single click, without any manual intervention.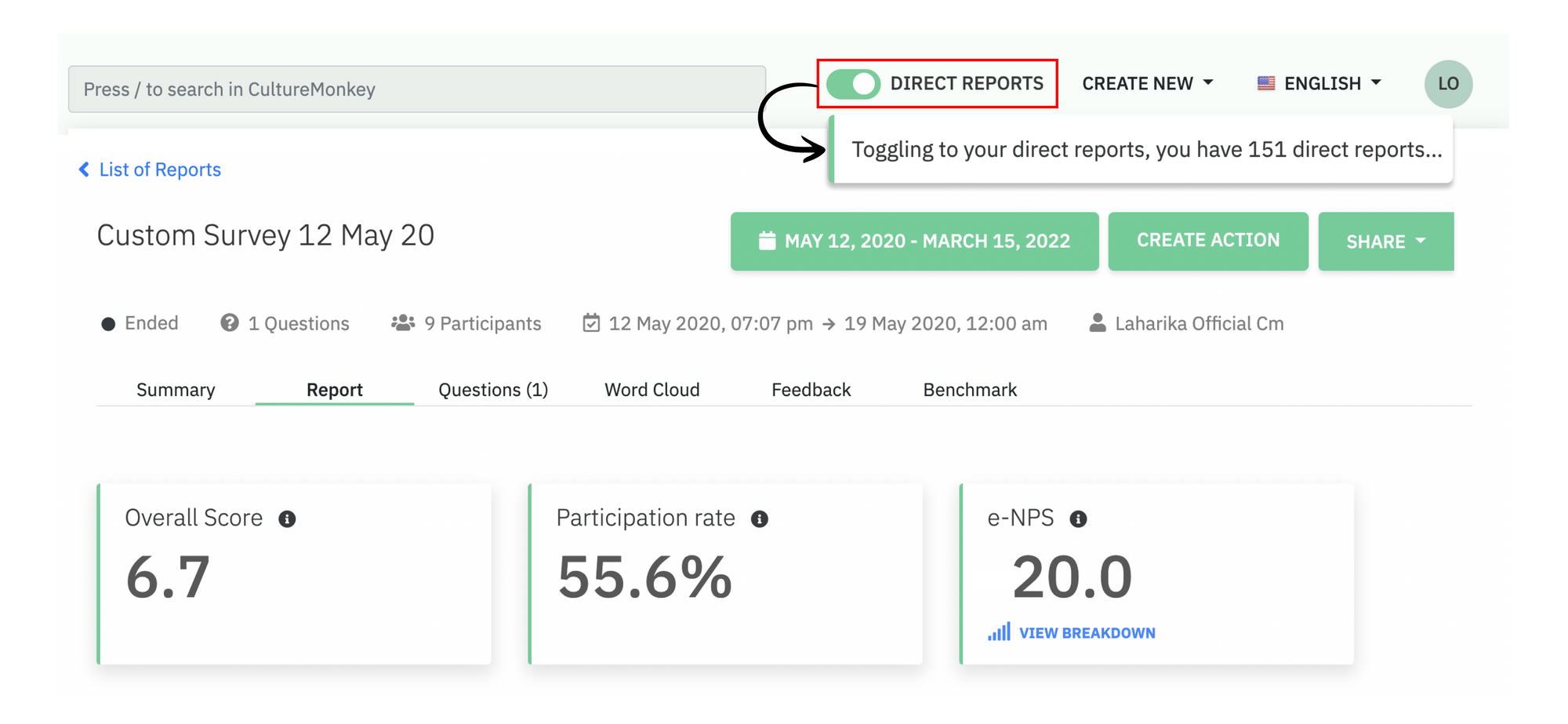 How does CultureMonkey and Zoho People integration work?

With Zoho poeple HRMS's broad coverage, deep features, intuitive UI, and seamless integration options, you can now bring your customer engagement and employee engagement strategies in one place.

Step 1: Connect CultureMonkey and Zoho

Once you are on the CultureMonkey's integration page, click on connect Zoho to export all the employee data from your HRMS.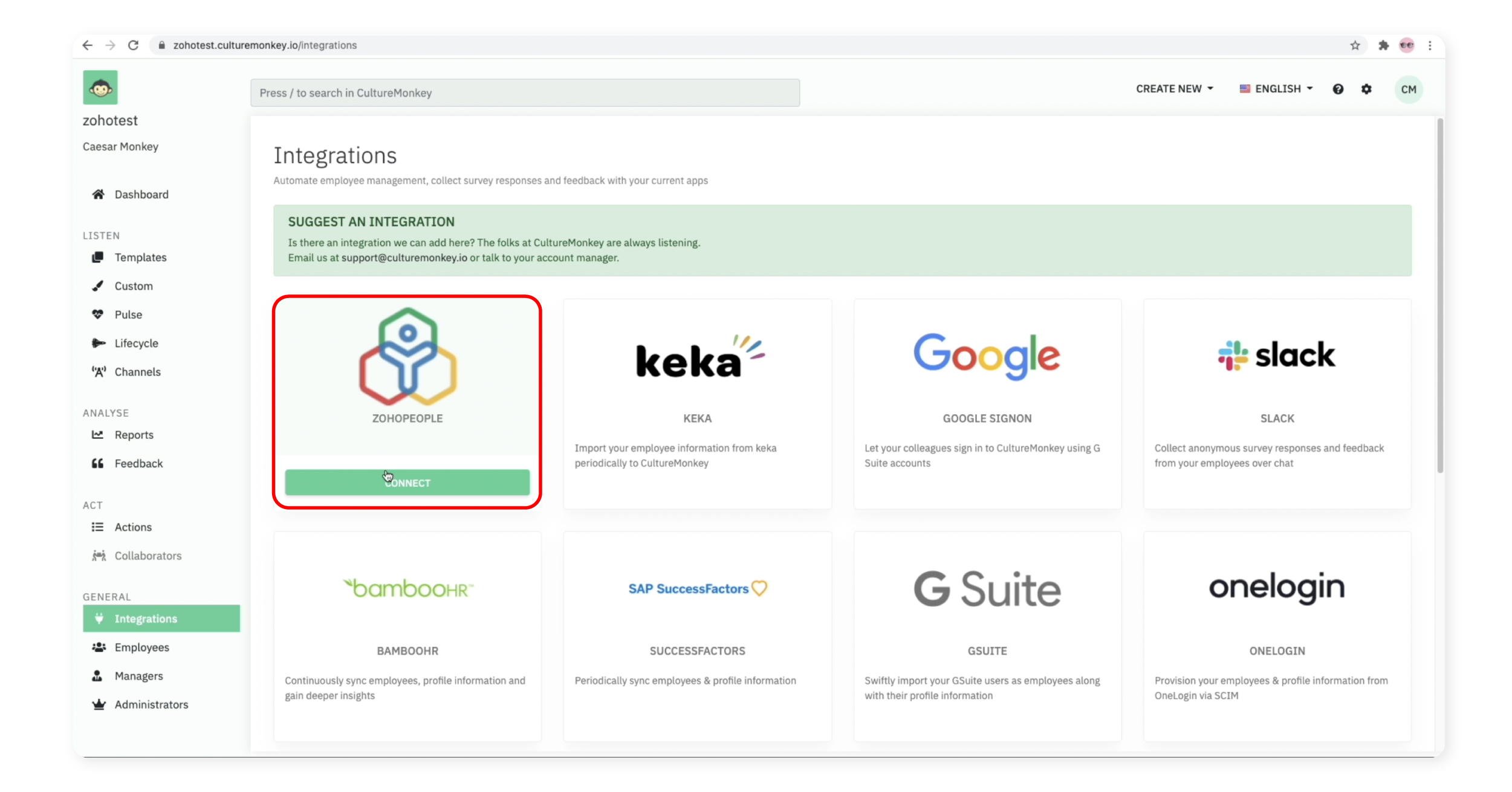 Step 2: Authenticate CultureMonkey

After connecting the two, an authentication request will pop up in your Zoho people login account. On accepting the request, all your employee data will be pushed to CultureMonkey feedback app.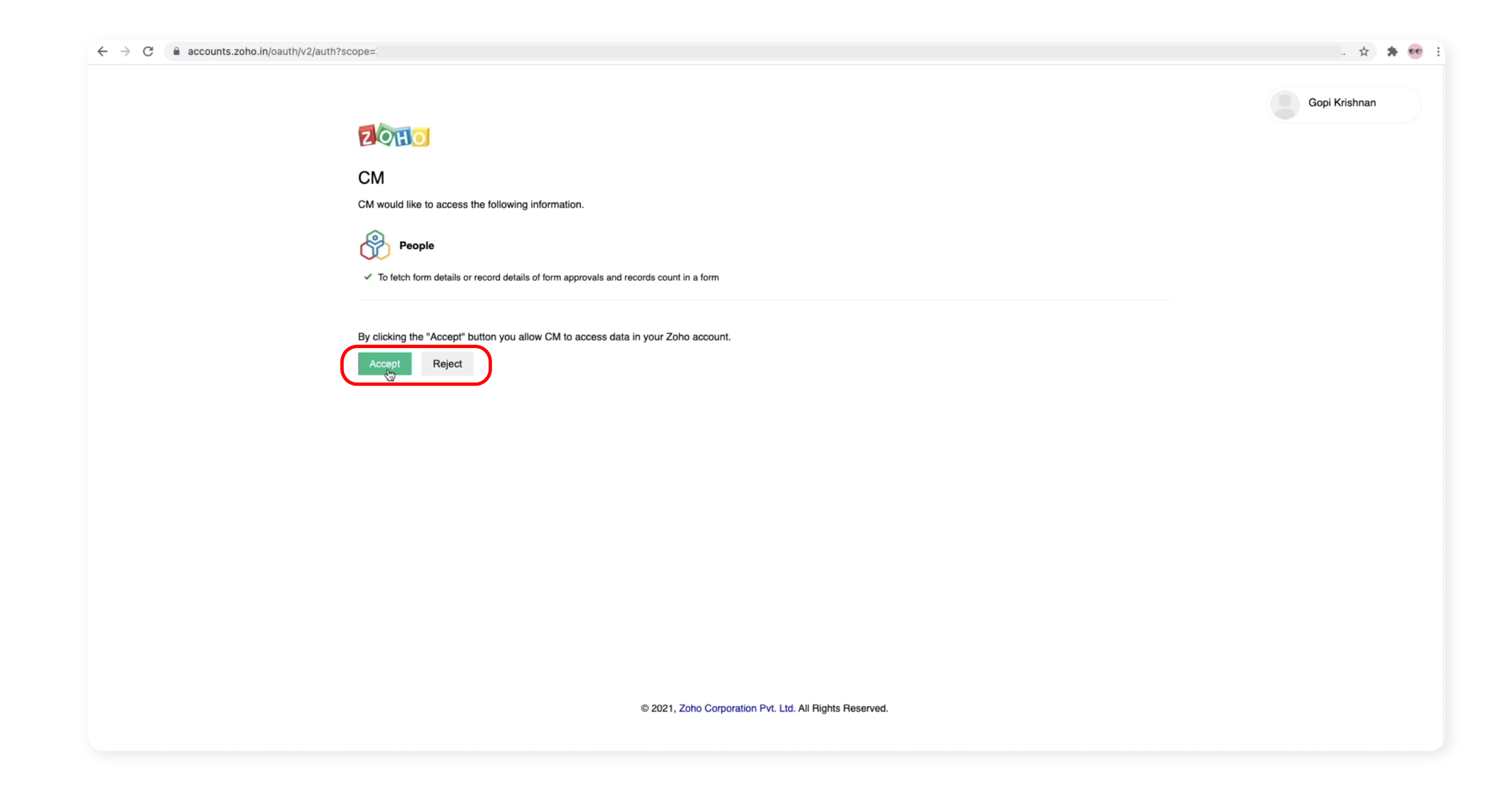 Step 3: Update data through Webhook automation

Three Webhook automations are created at Zoho that are; add, delete and update. In case any of the functionality is put into action, Zoho will trigger an API request to CultureMonkey to update the data automatically in real-time.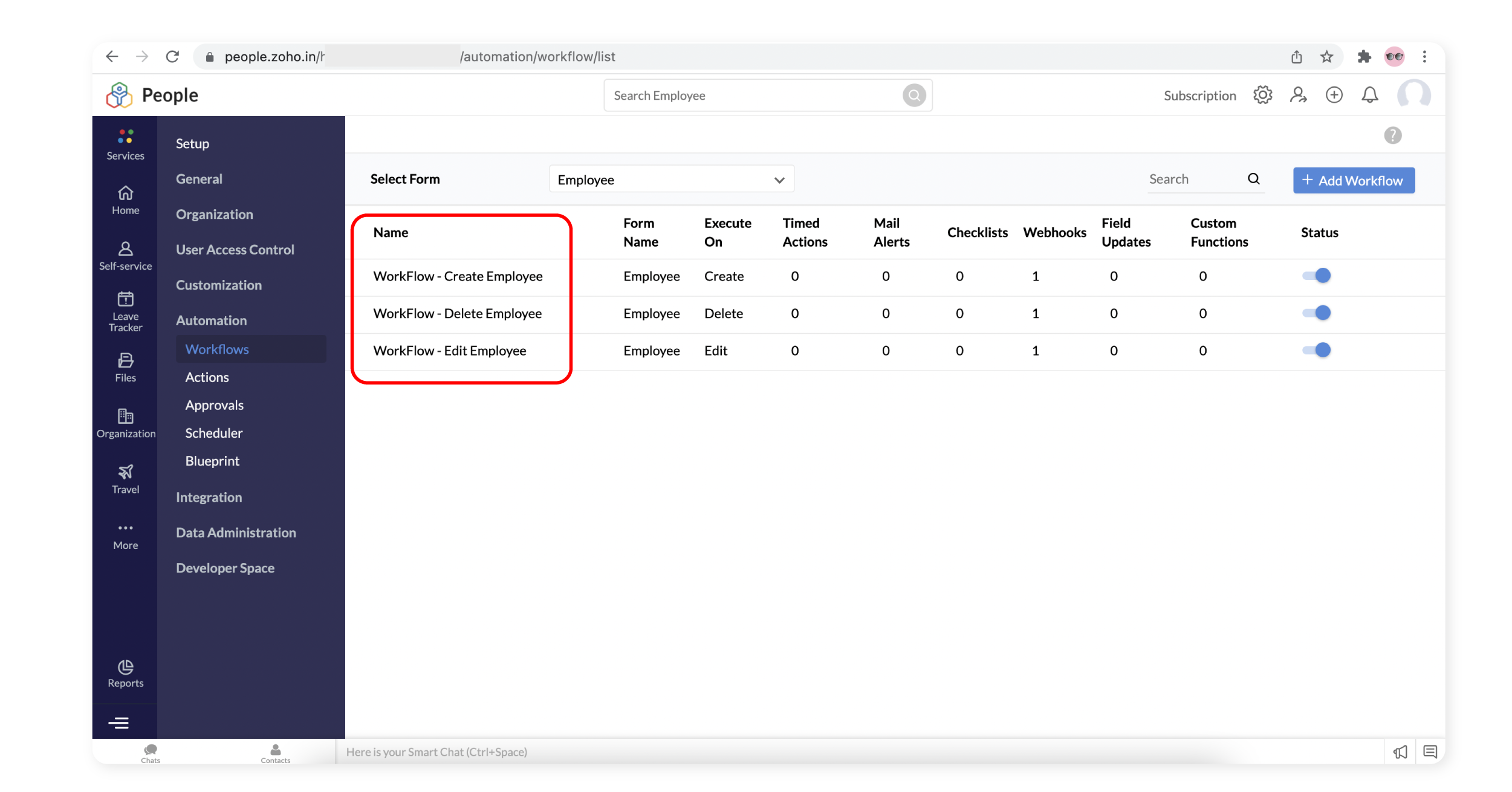 Step 4: Fixing errors in data

If there are any errors in employee data during the initial sync & real-time sync from Zoho HR to CultureMonkey, an automated resync feature can fix those. Bi-weekly resync (Tuesday and Friday) identifies errors and sends emails to the client and the dev team of CultureMonkey with a detailed report of errors identified and fixed.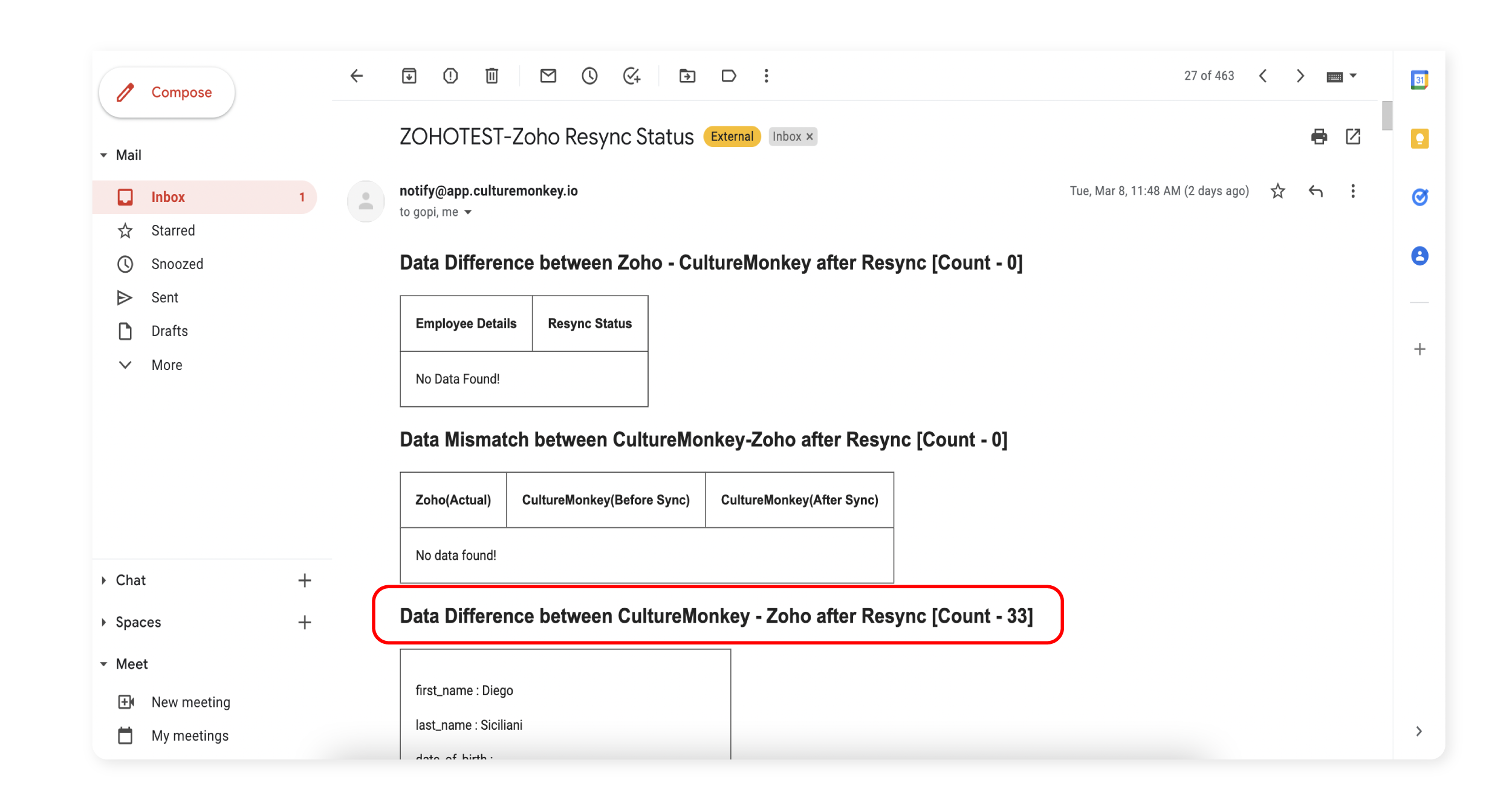 The dynamic duo for your business:

Launching employee surveys might look like an easy task. But, running accurate surveys with efficient results and actionable insights could be tricky. However, what's more, important is how you plant those surveys and what you do with those results.
With Zoho and CultureMonkey integration, we hope you can scale up your businesses faster with real-time insights into employee feedback. Ditch the manual systems and automate processes for 99.9% accuracy.

So, go ahead, try them out and see the magic!

---