Though employee pulse survey is relatively new, it is currently the talk of the town for its ability to gather quick responses and present actionable insights on employee behaviors. The process of getting feedback from employees began in the 1920s, and back then it was called "employee attitude surveys" which were used to measure employees' attitudes and morale towards the work environment.
But did you know that the concept of employee surveys has been in existence for more than a century?
During World War I, most industrial leaders were concerned about the attitude of their employees as it led to labor strikes and resource shortages during wartime. In response, leaders had to come up with a scientific approach to workforce management.
Like how William Horman rightly said, "Necessity is the mother of invention". A pressing need challenged the leaders from that era to implement an attitude survey. They asked employees questions about the management and coded the responses on a scale of one to five through agreeable or disagreeable context.
This process helped them formulate an average attitude score that they could use to compare and track engagement levels amongst the employees of various departments.
Even though conducting employee surveys back then was way ahead of its time, it had its limitations. Surveys were based on a paper - pen approach and did not guarantee employees any anonymity. As a result, employees were not very confident enough in expressing unbiased feedback in the fear of negative consequences.
Cut right to the late 1990s and early 2000s. We witnessed the technological era where employee surveys began to be conducted quickly securely over the internet. Except for moving to a more digital process, there was no significant change in the employee survey mechanism during this period.
Thanks to cloud - based software, running surveys is easy, less expensive, and readily accessible. Cloud - based employee engagement platforms have made it possible for organizations to enhance their capabilities when it comes to conducting employee surveys and has enabled them to measure trends and the pulse of their employees more frequently.
One conclusion to the evolution of employee surveys is this: across time, there has always been a need for behavioral science practices to increase employee engagement, even as we probably lacked the tools to fully make it happen.
It is safe to also assume that getting feedback from employees is not a recent trend data, instead, it has been at the core of developing a good company culture from the very beginning.
Engagement surveys are most widely used by leadership teams to gauge the engagement levels of their employees. By asking employees a series of questions about their employee experience in the organization, action plans are formulated to improve employee engagement.
And most organizations conduct these engagement surveys annually.
Annual engagement surveys usually serve as a year-on-year comparison of the engagement levels of employees. These surveys collect and unearth a lot of valuable data from the entire organization for deeper analysis which can then be eventually used for goal setting and finding ways to improve employee satisfaction, work culture, and company values.
But leaders need to understand that, no matter how good an annual engagement survey is, it is not just enough. Engagement surveys that are run annually are nothing but a yearly report. With no real-time information handy, acting on insights from annual surveys is a backward-looking exercise.
Imagine having run an employee survey in January 2020, right before the pandemic. You got the insights you needed and have a great action plan in place until the next survey in 2021. But as you spent the next 365 days implementing every big and small task on that action plan, a pandemic shook the world, employees started working remotely, people fell ill and so much more happened.
Would that action plan based on an annual survey run in January have any credibility once the pandemic struck? Because by then, the needs of your employees would have had changed drastically.
Yes, we agree that this is an extreme situation and most probably, a one-off instance. But a lot of things change over a period of 365 days including your employees' engagement levels, loyalty to the organization, motivation to work, and more.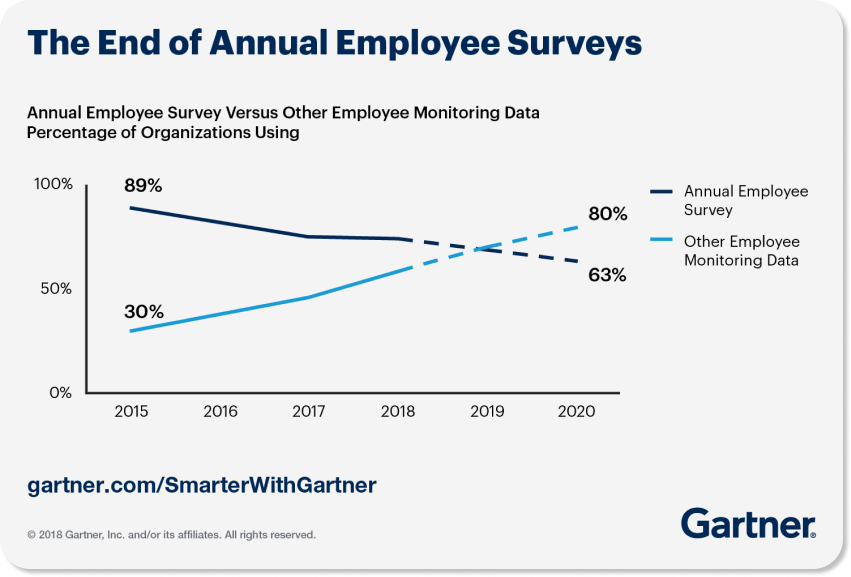 Based on Dynamic Signal's study in which 1001 US employees were surveyed, they found that 63 percent have wanted to quit because of ineffective and infrequent internal communications from their leadership team.
So how exactly is a pulse survey better than an annual survey?
Unlike annual surveys, complete pulse surveys are more frequent, specific, and much shorter in size, which will give you real-time insights into your employees' engagement levels without causing your employees any survey fatigue.
Pulse survey questions let you ask targeted questions to a specific group of people about the current employee affairs and over a period of time. Such timeliness can help gauge the mood of your employees after a recent appraisal season, gather employees' views about a recent policy change in the company, their requirements in professional development opportunities, and much more.
This aspect of the pulse survey would provide you a level of transparency that would never be achievable with an annual survey alone.
The insights from regular pulse surveys help managers resolve an issue then and there without letting that convert into a larger problem, say, the cause for attrition. It is this aspect of the pulse survey that makes it widely popular in leadership circles.
| | | |
| --- | --- | --- |
| | Pulse survey | Annual engagement survey |
| Quality of data collected | | |
| Real-time data analysis | | |
| Immediate actionability | | |
| Tracking of workplace trends | | |
| Comprehensibility | | |
| Frequency | Regular | Once in a year |
We've already discussed how significant the pulse surveys are for gathering employee feedback more frequently while keeping the survey short. But that's not the entire picture, here's what makes pulse survey a cool choice: