How modern managers can align employee performance with company cultures?
Table of contents:
1. Culture of respect and recognition
2. Culture of trust and autonomy
3. Culture of diversity and belonging
4. Culture of collaboration and innovation
5. Focus on employee experiences to earn employee engagement
6. What influences employee experience and employee engagement?
7. Shape the new possible with a progressive company culture
Let's pause from today's hustle and bustle and go back in time by a few years. Can you see HR professionals using traditional approaches, sinking under a stack of files, worrying about employee performance reviews, compensations, benefits packages, and bonuses?

Yes, those were the times when employees worked for high compensation and a stable paycheck. It was all they demanded from a job! Modern employees, especially post-pandemic, have changed their thought processes drastically. After getting the chance to spend quality time with their loved ones, for them, money isn't everything anymore.
Employees have become more self-aware, and their demands for better workplace cultures and more benefits like flexibility, autonomy, work-life balance, diverse, equitable, and inclusive workplaces, etc became the focus of attention.
Workplaces that failed to provide employees with the basic benefits (as mentioned above) witnessed higher employee attrition during the great resignation drive.

Recent research by Citrix suggests that the three attributes that are extremely critical for the modern workforce are:

1. Flexibility of work
2. Change in performance and productivity measurement
3. Diversity and belonging in teams
If companies want to sail through trends like "The Great Resignation", they will have to re-image and re-create workplaces by building strong cultural foundations; into the ethos of a company rather than spelled out in a benefits package. Employees are voicing out their concerns and needs, are you willing to hear them and create a culture that matters?

Let's understand what the future of work will look like and what's the importance of healthy company culture and how it drives employee performance.
The relationship between employee performance and company culture
Can you excel at one while ignoring the other? No!
It's not a hidden gem anymore: Company culture is the pillar of strength and sustainability for a company. It holds sway over nearly every facet of a company and is the backbone of a happy and satisfied workforce. To excel in building a great company culture, senior executives and managers need to reflect the values and become role models for their employees.

Of course, this is the secret ingredient for companies that are named "Best Place to Work". These organizations work on having strong positive cultures that encourage employees to perform their best at work.
#CultureTip: Create micro-cultures team-wise to create ownership. The role of a manager will not be to define it or bound it but to reinforce it and enable employees to be the torchbearers of those micro-cultures.
To elucidate the relationship between employee performance and company culture, we have listed down a few values that most leading companies advocate: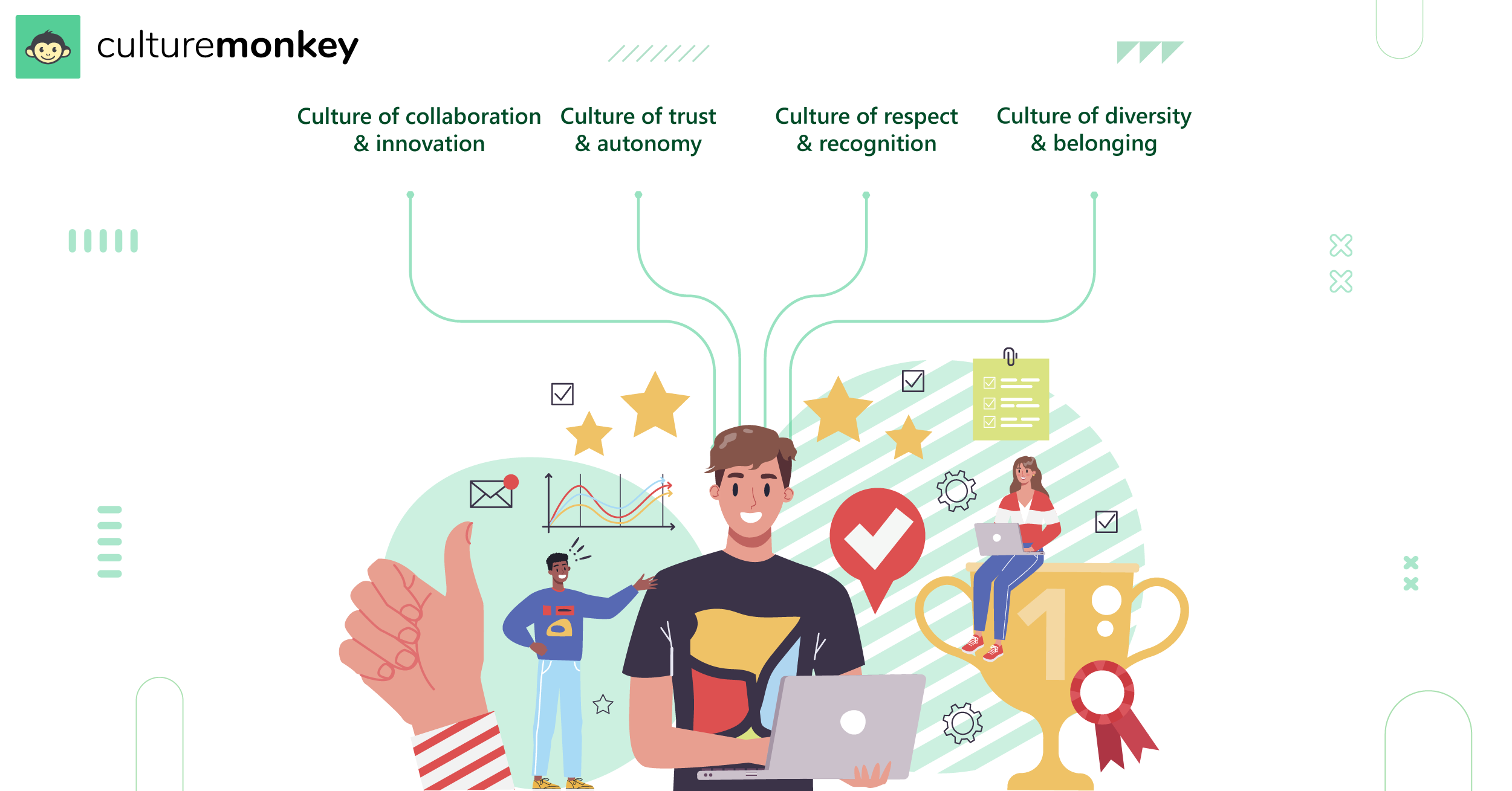 1. Culture of respect and recognition:
In a survey by Great place to work, 37% of respondents said that more personal recognition would encourage them to deliver better work results.
Building a culture of respect and recognition creates an ecosystem of positive affirmations that shows employers appreciate and recognize employee contributions. When employees are respected for their thoughts and recognized for their hard work, it makes them feel cared for. If you care about your employees' sentiments, they'll know.
If you take actions on their feedback, they'll know. So before you do something unwillingly, remember the reigns are in their hands, as much as in yours. Respect your employees and they will wilfully put in extra effort which will enhance their performance.

Examples of employee recognition:

1. Managers celebrating little wins with employees
2. Creating a recognition alert in the form of pulse surveys for employees who actively worked for 3-4 weeks.
3. Expressing gratitude with small tokens like a "thank you" or a wellness leave.
2. Culture of trust and autonomy:
A recent survey shows that 72% of workers who have the autonomy to act and make decisions on their own are satisfied with their jobs.

Trust and autonomy motivate employees and create a remarkable impact on employee morale & well-being and directly affect their determination. Undoubtedly, nobody likes to be micromanaged at work. Having a manager breathing over your shoulders can bring withdrawal emotions.

But, on the contrary when employers show trust and provide autonomy to their employees, a sense of responsibility is brought out in the employees, increasing the chances of becoming more emotionally invested in their projects. Increased autonomy also contributes highly to an employee's lifecycle and work experience, augmenting factors such as motivation, productivity, trust, and mental well-being.
Such work environments build an enhanced leadership pipeline while promoting skill development.

Examples of employee autonomy and trust in teams:

1. Allowing employees to set their own work schedules and processes
2. Asking for employee input in shaping organizational goals through surveys
3. Being honest, supportive, and transparent with your employees
3. Culture of diversity and belonging:
As per CNBC, nearly 80% of workers say that they want to work for a company that values diversity, equity, and inclusion.

Employees who work in diverse environments with a sharp sense of belonging feel more included, valued, and fairly treated. Senior leaders must have their focus on managing the business and the human side of the organization: its workforce.

To create a shared language organization-wide, conscious steps to allow employees to challenge workplace biases and stereotypes must be created while establishing cultures of differences that give birth to new ideas and innovation.

It makes employees feel as though they're welcomed and are a part of the organization which makes them more willing to support one another and the goals of the organization.

Examples of creating DEI&B workplaces:

1. Creating fair hiring panels and putting open-minded processes in place
2. Setting targets and measuring the engagement analytics while keeping everyone across the organization accountable.
3. Building a diverse, equitable, and inclusive culture and embedding it in your company's DNA.
4. Culture of collaboration and innovation:
As per a survey, about 75% of employees rate teamwork and collaboration as being very important.

Collaboration is the key to unlocking the doors of innovation. Workplaces that support and encourage the unique ideas and skills of each employee are much more successful. Why so? Primarily because employees in organizations that are collaborative and transparent are closely knitted fostering human connections.

It amplifies employee retention and increases employee engagement which boosts performance.

Examples of employee collaboration and innovation:

1. Conducting cross-functional team activities
2. Brainstorming sessions with written documents shared with all members of the team
3. Constantly allowing employees to create plans, hear them out and act on their ideas.
Focus on employee experiences to earn employee engagement
Many times, people mix the two terms: employee experience and employee engagement, and use them interchangeably.

Employee experience is the overall journey of an employee with your company whereas employee engagement is an ongoing part of the employee experience.

Employee engagement is not an event, a happy hour at work, or an incentive program. In fact, it is a foundation for consistent excellence. For the modern workforce, employee engagement is the strong connection that they feel mentally and emotionally towards their work, teams, and organization.
Leaders need to work on it time and again through their work environments and people relationships. The amount of effort a leader puts in creates a difference between an engaged and disengaged workforce. The best way for leaders to deal with this is to frequently run employee engagement surveys, constantly take feedback and take swift actions in accordance.
What influences employee experience and employee engagement?
Employee-employer relationships in today's world are super crucial. Leaders have to constantly listen to their employees, cater to their changing needs, and plan everything in accordance; from company culture to employee well-being to giving employees purpose and meaning. On top of that, they need to personalize all these experiences for their employees and make it all come to life (physically and digitally now in hybrid setups).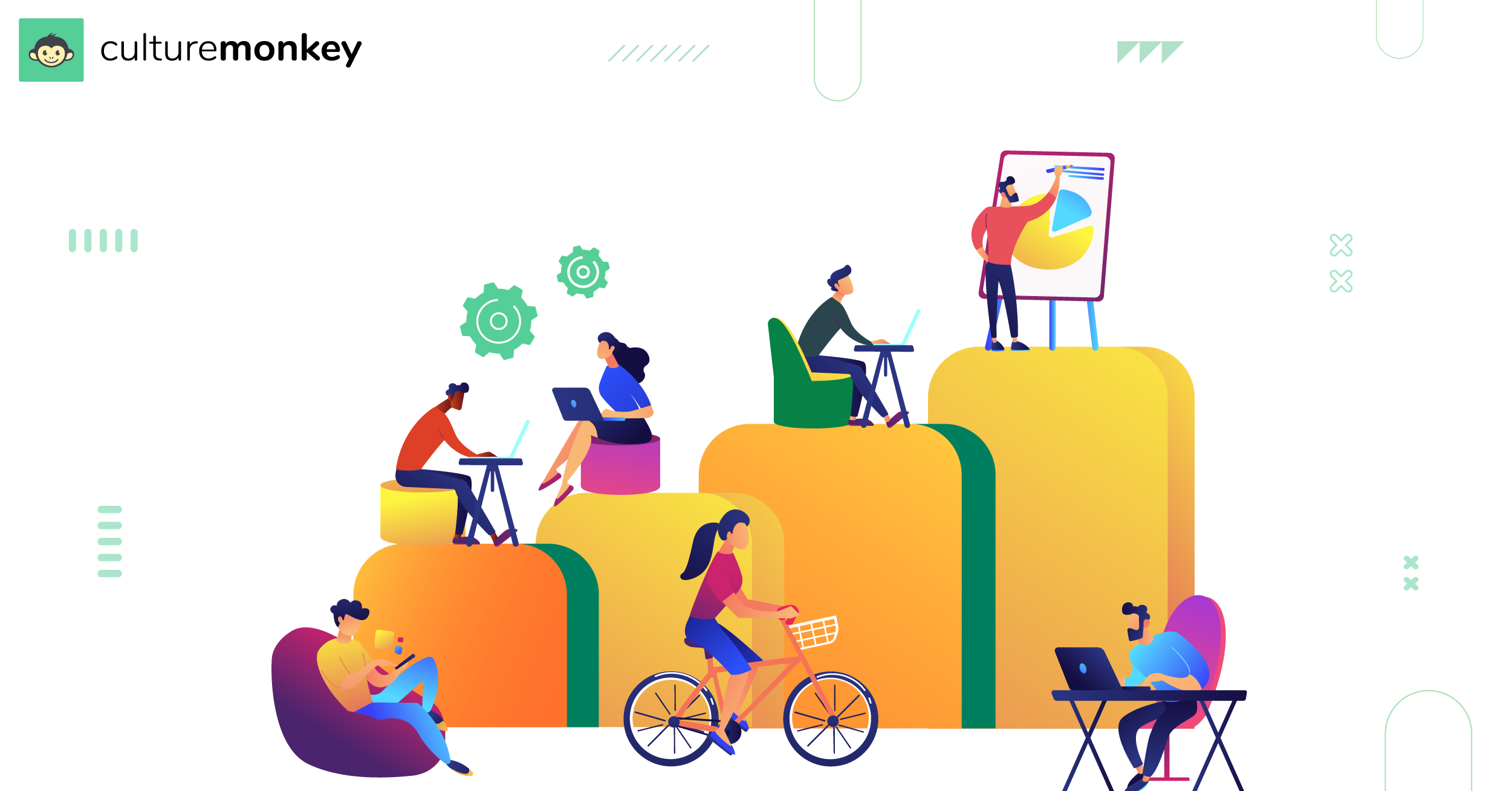 Just focusing on employee engagement activities is not enough to address all these characteristics in the workplace. Creating strong relationships and building healthy cultures to create that connection within teams and organizations is imperative.
You can create a fancy office space, but if employees don't see how they can grow with you, they are still likely to leave.
While it may be tempting to grow your business by investing in an expansion program that grows revenue, not focusing on the basics of employee experiences and engagement may lead to perennial challenges.

Culture is the cornerstone of all things employee, and if a company fails to meet the minimum requirements of the employees, it will end up having a highly disengaged workforce with higher attrition rates. Only your culture can help today's modern workforce decide whether they want to stay or not, and will create a basis for what they say about your organization long after they've left.
It's only wise enough to invest in an employee engagement tool and constantly take rounds of pulse surveys to gauge employee sentiments. The more you listen to your employees, the better actions you'll be able to take. The outcome is pretty solid: a committed & engaged workforce and growing revenues.
Shape the new possible with a progressive company culture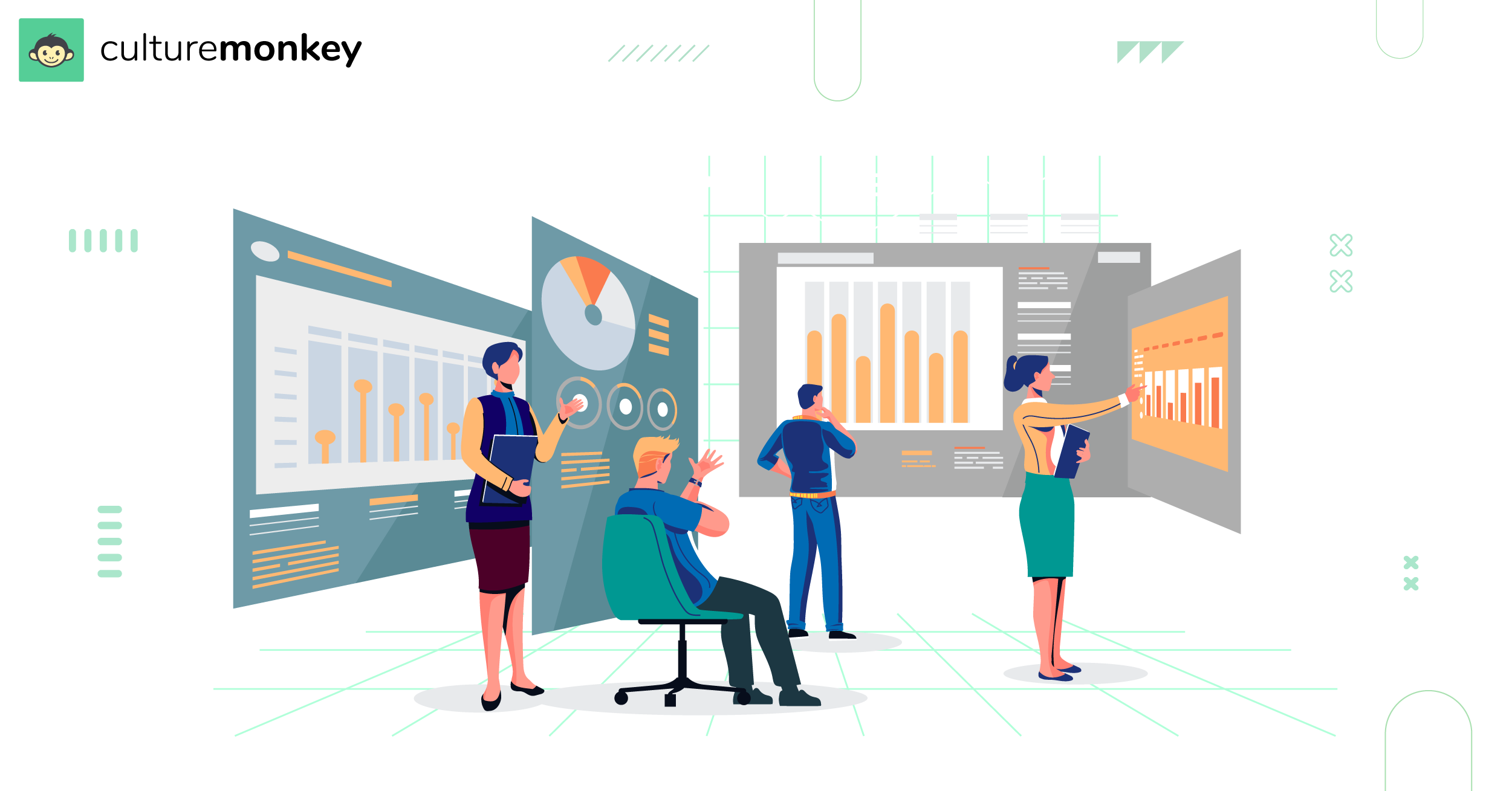 With the pandemic and hybrid work models coming into the picture, workplaces have opened doors to comprehensive changes bringing in new possibilities. Organizations are rebuilding workplace cultures that are built on higher levels of human connections - 'personalized and authentic' to foster experiences that reinforce individuals and company performance.

It's time for companies to step up and design models with stronger digital employee experiences that will attract, inspire and retain top talent. Employee engagement tools should be at the heart of every organization which will constantly listen to employee anonymous feedback and help leaders understand in real-time what matters most to their employees.
Mapping these pain points and creating micro cultures for teams to elevate their employee experiences will take companies a long way. Speak with our expert if you are ready to focus on moments that matter and create cultures that resonate with your workforce.