11 important exit interview questions to ask in 2022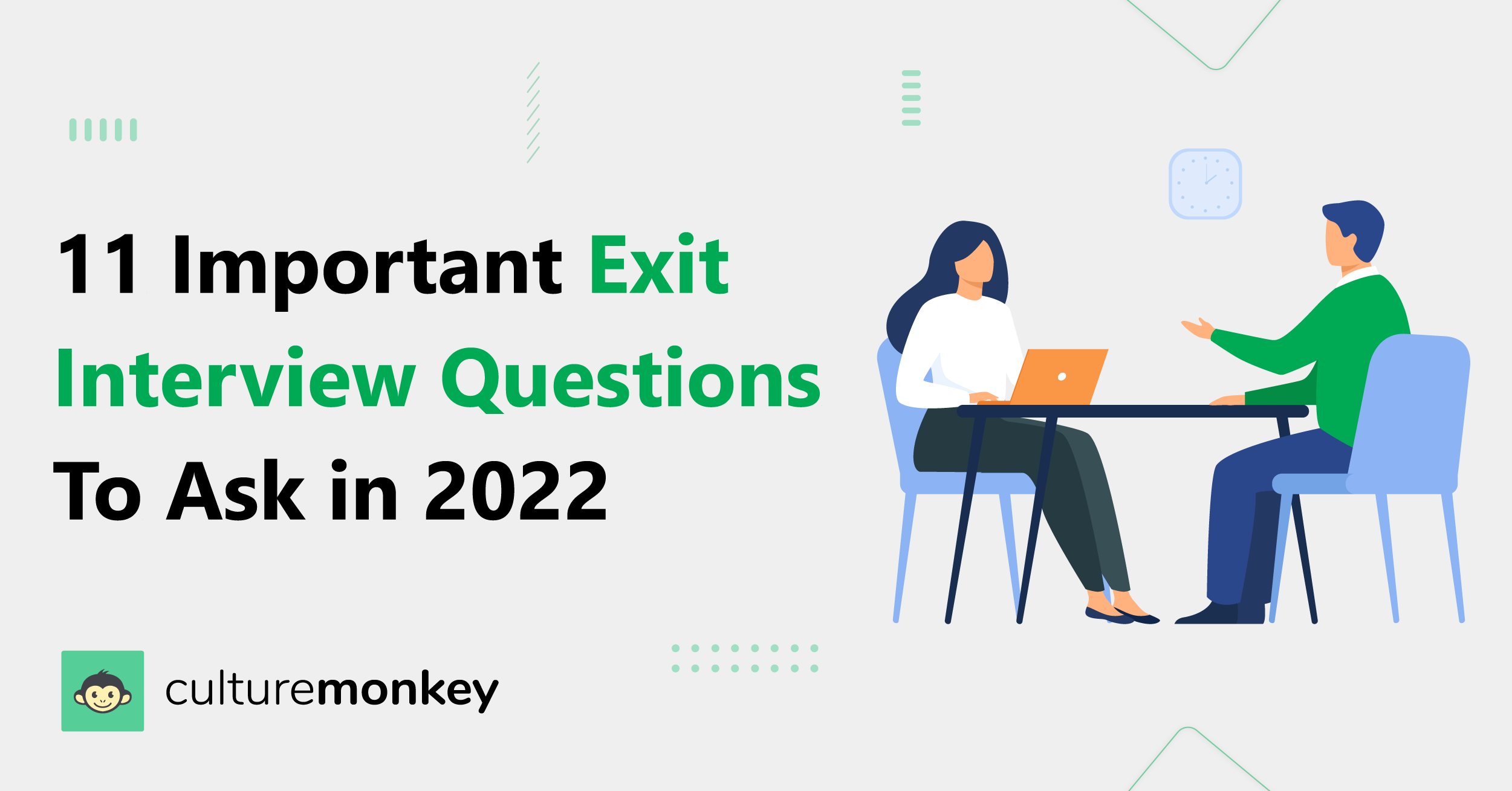 One of the bigger challenges faced by employers and HR professionals throughout the year is employee turnover. For the longest time, the factors that led to employee resignations were unknown or weren't considered important by organizations.
A high employee attrition rate is a red flag for your organization and can lead to increased hiring costs, amongst many other drawbacks. One of the most effective solutions to this problem is exit interviews.
Exit interviews are an integral part of the employee life cycle that is often ignored or not properly executed, leading to unwanted attrition. They are a source of valuable insights that can help reduce turnover and improve employee retention and the overall work culture.
In this article, we will unravel some of the challenges faced during exit interviews and their solutions, along with tips and important exit interview questions that you can steal for your next exit survey!
Table of contents:
What is an exit interview?
An exit interview, also known as an exit survey, is simply a concluding meeting between the employee and the human resources representative or the manager taken towards the end of the employee's time with the organization.
It is a great opportunity for you to understand the reason for the employee's resignation and provides a deeper look at the work culture, day-to-day processes, and morale from an employee's point of view.
It is usually conducted face-to-face or indirectly through an online questionnaire using a set of exit interview questions, as using the right set of exit interview questions, one can essentially open the door to the mysteries behind high employee turnover in their organization.

Each exit interview question for employees should focus on key areas of importance. A good exit survey comes with set standards and questions that record employee feedback impartially and addresses their concerns and opinions for the betterment of the work environment.
Why is an exit interview important?
Hiring good candidates comes at a price. Moreover, hiring is a time-consuming process. If the candidates stay only for a brief period of time, then you are on your way to going through this process again. Employees can leave for various reasons, including:
Better job offers.
Better pay.
Lack of motivating employee benefits.
Zero work-life balance.
Job dissatisfaction.
Lack of growth opportunities within the organization.
Conflicts with a co-worker or manager.
If these reasons go unidentified, then you end up with:
Spending more time and money on hiring.
Employees leave after a short time with little to no knowledge of the process or organization.
Poor company reputation if the reason for leaving is because of poor management practices.
In this case, sending a set of exit interview questions provides the employees an opportunity to provide honest, anonymous feedback for creating a suitable work environment for both current and future employees.
The exit interview questions should be aimed at gaining more insights on:
Employee expectations of the organization.
Industry benchmarks such as how much your competitors are paying for a similar role (if the employee is leaving your organization for a competitor).
Feedback on key areas of improvement.
Team management style and efficiency.
The responses received from the right exit interview questions can be used as a strategy to help boost employee retention and engagement, hire top talent, re-work management practices, and enhance employee productivity and performance.
How to conduct an exit interview most efficiently?
Even though exit interviews are performed differently in different organizations, there are some steps you can follow to ensure a smooth exit for the employee:
1) Prepare your exit interview questions in advance
Preparing exit interview questions beforehand helps you focus on the information you need from the departing employee. Remember to keep the questions short and to the point.
2) Convey the purpose of the exit interview and how the data will be used

Letting your departing employee know the reasons for the exit interview and how their constructive feedback for the exit interview questions asked, will help them work on similar concerns and challenges for current employees and can prompt them to answer the questions more proactively.
3) Avoid making the exit interview questions too formal

The goal of an exit survey is not to prevent an employee from leaving but to prevent it from happening in the future. A formal conversation between you and the employee may not get you anywhere. The interview, as well as the exit interview questions, must be professional and enable employees to open up and give honest criticisms on their overall experience with the organization.
4) Look out for reasons to retain the employee

Once the employee starts responding to your exit interview questions more freely, you can easily identify the reasons for their leaving. You can try retaining the employee by explaining the actions you can take to solve the challenges faced by the employee in the organization. Highlighting some of the positive aspects of the organization that can help in the growth of the employee can also prove beneficial in this process.
5) Understand what led them to pursue another job
The primary goal of an exit interview is to identify the reasons that pushed the employee to pursue another job. Thus it is essential to frame the exit interview questions in such a way that it helps you understand the roles and pay your competitors are offering your departing employees.
6) Convey the exit procedure clearly

As a part of the exit interview, your departing employees, too, will have questions for you. In most cases, it could be of the formalities they have to complete before leaving the organization. An exit interview is a good time to convey any pending procedures that must be completed before their last day.
Apart from these steps, it is imperative to understand what to avoid in an interview and which exit interview questions can help gain maximum input from the employees. So here are a few do's and don'ts to keep in mind.
Do's and Don't of running an employee exit survey
Do's
✔ Plan your exit interview and communicate the purpose with the employee in advance.
✔ Keep the exit interview short and simple and only ask relevant exit interview questions
✔ Make detailed notes of the feedback gained from the exit interview questions. This way, the employee feels more validated.
✔ Always end the interview on a positive note.
Don'ts
✘ Do not force employees to answer any exit interview questions that they do not want to.
✘ Avoid criticizing or making comments on the feedback provided by the employees.
✘ Avoid confusing the employee with too many questions.
✘ Avoid questions that are too personal or unprofessional.
How to use exit interviews to improve employee engagement?
Exit interviews can be used to improve employee engagement by identifying areas where employees are dissatisfied and finding ways to address those concerns.
Additionally, asking the right exit interview questions can be used to identify trends in employee dissatisfaction and to develop strategies to prevent future turnover. The trends and strategies can then be used to boost employee engagement in various ways.
Make sure that your exit interviews are conducted for all departing employees.
Ask the right exit interview questions and probe for deeper answers.
Ask questions that go beyond the superficial and explore the underlying reasons why employees are leaving.
Be open to employee feedback and be willing to make changes based on what you learn from the employees.
Use exit employee surveys as an opportunity to improve your organization and make it a more attractive place to work.
Let your employees know that their feedback is valued and that you are taking action based on what they have to say.
7 best practices to adopt for a successful exit interview
An efficiently conducted exit interview can fill you in all the blank spaces regarding where the company stands on the employee front and will help you to understand employee pulse better.
To ensure a successful exit interview, follow these practices for a productive conversation with the employee.
An exit interview must be unbiased and objective.
Plan and conduct the exit interview well before the employee leaves.
Conduct the interview in a private setting.
Encourage honest feedback.
Don't take the feedback personally.
Keep the information confidential.
Align the exit interview questions to employee engagement and retention metrics for greater results and actionable insights.
11 best exit interview questions for employees
Here are some of the best exit interview questions you can ask your employees, to get deep insights on what can be improved in your company culture to retain employees better:
1) Has the job description changed after you were hired?

Every job comes with additional responsibilities than what was mentioned in the job description. Most of the time, these changes are small and often ignored by managers or employees.
This exit interview question can highlight the changes or responsibilities that the employee undertook and was beyond the job description. You can use this information to update the job description before the next hire.
2) Were you provided the essential tools, resources, and training by your manager or supervisor for the job?
It is common to feel overwhelmed by some tasks, especially if they are new to the job. Managers and supervisors must ensure that employees are equipped with all essential knowledge and resources to carry out their duties without interruption. In addition, you can also understand what parts of the training provided were particularly helpful and what can be improved.
3) How was the workload for this role?
With time and closing deadlines, employees are usually burdened with extra work. This could be all right to handle for a short time and as long as it doesn't take over an employee's personal time.
This exit interview question highlights the balance and imbalance of work and life the employee experiences with the organization.
4) What led you to look for another job?
Now, this question is only relevant when your employee leaves the organization to pursue a role in another one. You can understand why the employee decided to leave the organization, the market pay offered, employee benefits, and other facilities your competitors offer for the role.
5) How has the experience with your co-workers and manager been?
All employees spend a considerable amount of their time during work hours with co-workers and managers. Understanding how the overall working experience was with them, how ideas and feedback were exchanged, and how or whether it has been implemented are some aspects that can be discussed.
6) What was the best part of your journey with us so far?
Different employees will have different answers to this exit interview question. However, there could be a common pattern that you can identify from the answers, such as work-life balance, flexible working hours, competitive salary, employee benefits, and many others.
Make efforts to maintain and improve them as these are the reasons that make an organization a good workplace.
7) How would you describe the work culture here?
A glimpse into the employee's perspective of the work culture highlights the different experiences they have had. You can always use this information to strengthen the work values and ideologies across the organization.
8) Did you feel your compensation was fair?
One of the most common reasons for employee turnover is unfair compensation. Employees feel like they are underpaid for the work they are carrying out or might have taken up the job in the hope of finding a better one later.
This data can be used to ensure fair pay for everyone and stay on top of the market. Furthermore, this exit survey question helps you identify if the organization can match their expectations, you may even be able to retain the employee.
9) How do you think we can improve employee morale?
Employees working in different teams or departments may have their own opinions on improving employee morale and unwanted attrition. Even though implementing all of them might not be possible, some of them can have a greater effect on employee morale.
Pick out the ones you feel will make a difference in the organization and monitor them to understand their impact.
10) What do you think the organization needs improvement at?
Even though this is a common exit interview question, it can prompt employees to give genuine feedback, one they couldn't or didn't offer during their time in the organization.
11) Do you think you will return to work with us in the future?

This exit interview question provides insights into the loyalty and engagement of the employee with the organization. A positive answer also means that the employee will have good things to talk about the organization and will likely recommend the company to others.
Conclusion

Employee turnaround is just another part of the employee life cycle, and there is nothing much you can do to prevent it completely, but there are definitely ways to reduce it. This is where exit interviews come into play. Use your exit interview questions to understand how, where and what to improve in your organization for better employee retention and engagement.

To make a change or to spot a mistake, you don't have to wait until one of the employees decides to leave. You can take an employee survey to get deeper insights into the employees and organization and develop strategies to work towards a safer and more competitive work culture.
If you're looking for more information on survey questions, check out our detailed guide on employee survey questions.
---